Research Article
Pragmatics and Iconicity as Factors Explaining the Paradox of Quantified Proper Names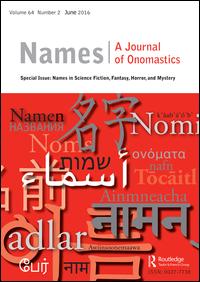 Published 1985-09-01
Copyright (c) 1985 Maney
This work is licensed under a Creative Commons Attribution 4.0 International License.
References
DAHL, Ö. (1975). Individuals, subindividuals, and manifestations. (Logical Grammar Reports 15). Univ. of Göteborg, Dept. of Ling.
HAIMAN, J. (1980). The iconicity of Grammar. Language 56:515–541.
LEECH, G. (1974). Semantics. (Penguin Books.) Harmondsworth.
LEYS, O. (1979). Was ist ein Eigenname? Ein pragmatisch orientierter Standpunkt. Leuvense Bijdragen 68:61–86.
PANHUIS, D. (1981). The arbitrariness of the lingual sign as a symptom of linguistic alienation. Studies in Language 5:343–360.
POSNER, R. (1980). Ikonismus in der Syntax. Zeitschrift fur semiotik 2:57–82.
STACHOWIAK, Fr. J. (1980). Zur Referenz und Bedeutung von Eigennamen aus psycholinguistischer Sicht. In: Seiler, H., ed. Apprehension. Das sprachliche Erfassen von Gegenständen. II.Teil.
SVENNUNG, J. (1958). Anredeformen: Vergleichende Forschungen zur indirekten Anrede in der dritten Person und zum Nominativ für den Vokativ. (Acta Soc. Litt. Hum. Reg. Upsal.42). Uppsala & Wiesbaden.
VAN LANGENDONCK, (1979). Definiteness as an unmarked category. Lin- guistiche Berichte 63:33–55.
VAN LANGENDONCK, W. (1981). On the theory of proper names. In: Proceedings of 13th International Congress of Onomastic Sciences (Cracow 1978), ed. by K. Rymut,Vol. I: 63–78. Wroclaw etc.: Ossolineum.