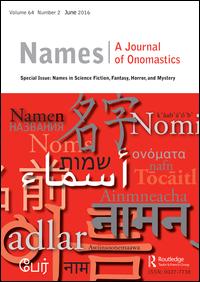 Published 1992-03-01
Copyright (c) 1992 Maney
This work is licensed under a Creative Commons Attribution 4.0 International License.
Abstract
Abstract
Coromuel and Pichilingue, established as minor placenames near La Paz, Baja California, derive from English and Dutch pirates and privateers who careened their ships in coves on the uninhabited peninsula in the seventeenth and eighteenth centuries. Pichilingue (from Dutch Vlissingen) is documented to the early eighteenth century, but Coromuel (from Cromwell) only to the mid-nineteeth century.
References
Aimard, Gustave. The Freebooters, Trans, of Les francs-tireurs. London: Ward and Lock, 1861.
Anon. Los Angeles Star. 6 June 1857: 3.
"Bob Ferris News." Transcript. KNX, Los Angeles, 5 December 1955.
Gerhard, Peter. Pirates on the West Coast of New Spain 1575– 1742. Glendale CA: Arthur H. Clark,1960.
Jordan, Fernando. El Otro Mexico: Biografía de Baja California. Mexico City: Biografías Gandesa,1951.
Santamaría, Francisco J. Diccionario General de Americanismos. Mexico City: Pedro Robredo,1942.
Schulman, David. "Spanish Words in American English." American Speech 30.3 (Oct. 1955): 227–31.
Sluiter, Engel. "The Word Pechelingue: Its Derivation and Meaning." Hispanic American Historical Review 24.4 (Nov. 1944): 683–98.
Venegas, Miguel. "Empressas Apostólicas de los P. P. Missioneros de la Compañía de Jesús de la Provincia de Nueva España Obradas en la Conquista de Californias." Manuscript 1739. A fine copy is in the Bancroft Library, U of California, Berkeley.