Research Article
The Probable Etymological Roots of Hawthorne's Pietro Baglioni in "Rappaccini's Daughter"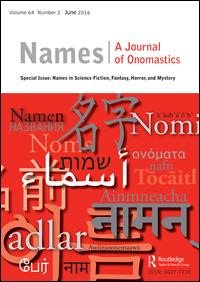 Published 1992-09-01
Copyright (c) 1992 Maney
This work is licensed under a Creative Commons Attribution 4.0 International License.
Abstract
Abstract
An examination of the potential etymological roots of Pietro Baglioni's name in "Rappaccini's Daughter" can provide insight into the character's function in the story as well as accommodate opposing interpretations of his role.
References
Bales, Kent. "Names and the Root of Evil in 'Rappaccini's Daughter."' The Nathaniel Hawthorne Journal 8 (1978): 175–78.
Bensick, Carol Marie. La Nouvelle Beatrice: Renaissance and Romance in "Rappaccini's Daughter" New Brunswick: Rutgers UP, 1985.
Bottarelli, F. Exercises of Italian Speech. London, 1822.
Cantwell, Robert. Nathaniel Hawthorne: The American Years. New York: Rinehart, 1948.
The Catalogue of the Library of the Boston Athenaeum: 1807–1871. 5 vols. Boston: Hall, 1874–82.
The Catalogue of the Library of Bowdoin College in Brunswick, Maine. Brunswick.: Joseph Griffin, 1921.
Chappell, Charles. "Pietro Baglioni's Motives for Murder in 'Rappaccini's Daughter."' Studies in American Fiction 18.1 (1990): 55–63.
Cowles, David L. "A Profane Tragedy: Dante in Hawthorne's 'Rappaccini's Daughter.'" American Transcendental Quarterly 60 (June 1986): 5–24.
Crews, Frederick C. "Giovanni's Garden." American Quarterly 16 (1964): 402–18.
Cuddy, Lois A. "The Purgatorial Gardens of Hawthorne and Dante: Irony and Redefinition in 'Rappaccini's Daughter.'" Modem Language Studies 17.1 (1987): 39–53.
Hanks, Patrick, and Flavia Hodges. A Dictionary of Surnames. Oxford: Oxford UP, 1988.
Hawthorne, Julian. Hawthorne and His Wife. 2 vols. 1884. Archon, 1968.
Hawthorne, Nathaniel. "Rappacini's Daughter." The Centenary Edition of the Works of Nathanial Hawthorne. 16 vols. Ed. William Charvat, et al. Columbus: Ohio State UP,1962–1985.10 (1974): 91–128.
Kesselring, Marion L. "Hawthorne's Reading, 1828–1850." Bulletin of the New York Public Library 53 (1949): 53–71, 121–38, 173–94.
Labaree, Benjamin W., and B. Bernard Cohen. "Hawthorne at the Essex Institute." Essex Institute Historical Collections 94.3 (1958): 303–07.
Mathews, J. Chesley. "Hawthorne's Knowledge of Dante." Texas University Studies in English 20 (1940): 157–65.
Moss, Sidney P. "A Reading of 'Rappaccini's Daughter.'" Studies in Short Fiction 2.2 (1965): 145–56.
Nelson, Ronald J. "A Possible Source for Pietro Baglioni in 'Rappaccini's Daughter.'" The Nathaniel Hawthorne Review 17.2 (1991): 17–19.
Pollin, Burton R. "'Rappaccini's Daughter' —Sources and Names." Names 14 (1966): 30–35.
Smyth, Julian C., Collection. Bowdoin College. Brunswick, Maine.
Tedeschi, Alberto, and Carlo Rossi Fantonetti. MondadorVs Pocket Italian-English, English-Italian Dictionary. New York: Pocket Books, 1961. 27.
Torriano, Giovanni. Vocabolario Italiano e Inglese [A Dictionary, Italian and English, and English and Italian]. London, 1659.
Wright, John W. "A Feathertop Kit." Nathaniel Hawthorne's Tales. Ed. James McIntosh. New York: Norton, 1987. 439–54.