Research Article
Nicknames in Urban China: A Two-Tiered Model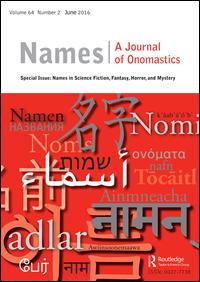 Published 1993-06-01
Copyright (c) 1993 Maney
This work is licensed under a Creative Commons Attribution 4.0 International License.
Abstract
Abstract
Nicknames have been observed and analyzed in a variety of cultures and subcultures. In most cases an analysis will presuppose either a narrow definition of a nickname which includes only meaningful names, or a broader definition which includes hypocorisms and other informal names. By using the concept of a category which is focused on a prototype but which includes less than prototypical or "borderline" members, both kinds of definitions can be accomodated. Furthermore, this two-tiered concept of the nickname, applied cross-culturally, may help bring order into our understanding of the many different kinds of nicknames that can be found in various cultural and social groups. In the case of urban China there are two kinds of nicknames which match this two-tiered model.
References
Alford, R. D. Naming and Identity: A Cross-cultural Study of Personal Naming Practices. New Haven: HRAF Press, 1988.
Berlin, Brent and Paul Kay. Basic Color Terms: Their Universality and Evolution. Berkeley: U of California P,1969.
Bernard, H. R. "Paratsoukli: Institutionalized Nicknaming in Rural Greece." Ethnologia Europaea 2 (1968):65–74.
Boissevain, J. Hal-Farrug: A Village in Malta. New York: Holt, Rinehart and Winston, 1980.
Brandes, Stanley H. "The Social and Demographic Implications of Nicknaming in Navanogal, Spain.' American Ethnologist 2 (1975): 139–48.
Cohen, Eugene N. "Nicknames, Social Boundaries and Community in an Italian Village. International Journal of Contemporary Sociology 14 (1977): 102–13.
Collier, George A. and Victoria R. Bricker. "Nicknames and Social Structure in Zinacantan." American Anthropologist 72 (1970): 289–302.
Dorian, Nancy C. "A Substitute Name System in the Scottish Highlands." American Anthropologist 72 (1970):303–19.
Foster, George M. "Peasant Society and the Image of the Limited Good." American Anthropologist 67 (1965):293–315.
Glazier, Jack. "Nicknames and the Transformation of an American Jewish Community: Notes on the Anthropology of Emotion in the Urban Midwest." Ethnology 26 (1987):73–85.
Holland, Theodore H., Jr. "The Many Faces of Nicknames." Names 38 (1990):255–72.
Huang, Parker P. Cantonese Dictionary. New Haven: Yale UP, 1970.
Kehl, Frank. "Chinese Nicknaming Behavior: A Sociolinguistic Pilot Study." Journal of Oriental Studies 9 (1971):149–72.
Louie, Emma Woo. "Name Styles and Structure of Chinese-American Personal Names." Names 39 (1991):225–37.
Lu, Zhongti with Celia Millward. "Chinese Given Names Since the Cultural Revolution." Names 37 (1989):265–80.
Rosch, Eleanor and Carolyn B. Mervis. "Family Resemblances: Studies in the Internal Structure of Categories." Cognitive Psychology 7(1975):573–605.
Smith, Elsdon Coles. The Story of Our Names. Detroit: Gale,1970.
Wilson, Brenda S. and James K. Skipper. "Nicknames and Women Professional Baseball Players." Names 38 (1990):305–22.
Zhu Bin and Celia Millward. "Personal Names in Chinese." Names 35 (1987):8–21.