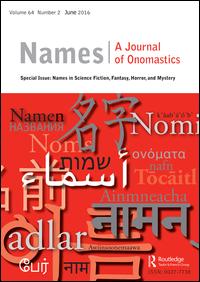 Published 1995-03-01
Copyright (c) 1995 Maney
This work is licensed under a Creative Commons Attribution 4.0 International License.
References
Bahlow, Hans. 1967. Deutsches NamenlexikoniFamilien- und Vornamen nach Ursprung und Sinn erklärt. München: Keysersche Verlagsbuchhandlung.
Fujiwara, Yoichi. 1973. The Sentence Structure of Japanese. Trans Noah S. Brannen and Scott J. Baird. Tokyo: U of Tokyo P.
Hanks, Patrick and Flavia Hodges. 1988. A Dictionary of Surnames. Oxford: Oxford UP.
Jones, George F. 1990. German-American Names. Baltimore: Genealogical Publishing Co.
Smith, Clifford Neal and Anna Piszczasn-Czaja Smith. 1976. Encyclopedia of German-American Genealogical Research. New York: R.R. Bowker.
Smith, Elsdon C. 1973 (1956). New Dictionary of American Family Names. New York: Harper & Row.