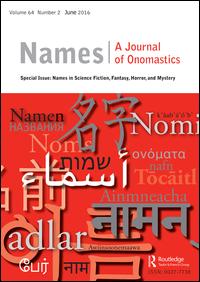 Published 1997-06-01
Copyright (c) 1997 Maney
This work is licensed under a Creative Commons Attribution 4.0 International License.
References
Stewart, George R. 1953. "The Field of the American Name Society." Names 1: 73–78.
Roelandts, Karel, and Moritz Schönfeld. 1954. "Naamkundige terminologie." Mededelingen van de Vereniging voor Naamkunde te Leuven en de Commisie voor Naamkunde te Amsterdam 30: 18–28.