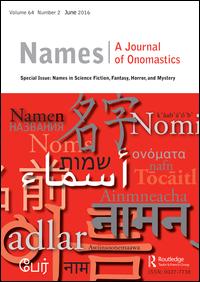 Published 1997-09-01
Copyright (c) 1997 Maney
This work is licensed under a Creative Commons Attribution 4.0 International License.
References
Chittenden, Hiram M. 1915. The Yellowstone National Park: Historical and Descriptive. Cincinnati: Stewart and Kidd.
Gasque, Thomas J. 1992. "Publication Notes: Names Out West." Names 40: 312–17.
Haines, Aubrey L. 1996. The Yellowstone Story : A History of Our First National Park. Rev. ed. Niwot, CO: UP of Colorado. 2 vols.
Stewart, George R. 1945. Names on the Land. New York: Random House.
Whittlesey, Lee H. 1988. Yellowstone Place Names. Helena: Montana Historical Society P.