Research Article
Akan Death-Prevention Names: A Pragmatic and Structural Analysis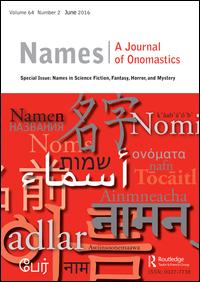 Published 1998-09-01
Copyright (c) 1998 Maney
This work is licensed under a Creative Commons Attribution 4.0 International License.
Abstract
Abstract
This paper discusses the content and types of Akan death-prevention names. It provides a structural linguistic analysis of the morphology of these names and presents a socio- and ethnolingustic account of the death-prevention names as they function within Akan communication: Thepaper also classifies the names according to their structures. Death-prevention names are shown to be meaningful and to refer to the lives of both their bearers and the name-givers.
References
Asante, M.K. 1995. The Book of African Names. Trenton: Africa World P.
Crane, L. 1982. African Names: People and Places. Urbana-Champaign: U of Illinois P.
Chuks-orji, O. 1972. Names from Africa. Their Origin, Meaning, and Pronunciation. Chicago: Johnson Publishing Company Inc.
Cialdini, R.B., J.F. Finch & E. de N. Maralou. 1989. "Strategic Self–presentation: The Indirect Route". In M. Cody & M. Mclaughlin, eds., The Psychology of Tactical Communication (pp. 194–206). Clevedon: Multilingual Matters.
de Klerk, V. & Bosch, B. 1996. Naming Practices in the Eastern Cape Province of South Africa. Names 44:167–88.
Doke, C.M. 1931. The Lambas of Northern Rhodesia: A Study of their Customs and Beliefs. London: Harrap.
Ebeogu, A. 1993. "Onomastics and the Igbo Tradition of Politics." African Languages and Cultures 6:133–146.
Lang, A.P.B. & J. Newhagen. 1994. Categorical and Dimensional Theories of Emotion'. How they Predict Memory for Television Messages. Paper presented to the Theory and Methodology Division of the Association for Education in Journalism and Mass Communication, Atlanta, GA.
Lowie, R.H. 1963. Indians of the Plains. Garden City, NY: Natural History P.
Madubuike, I. 1974. Structure and Meaning in Igbo Names. Buffalo: State U of New York P.
Madubuike, I.1994. A Handbook of African Names. Colorado Springs: Three Continents P.
Needham, R. 1954. "The System of Teknonyms and Death-Names of the Penan." South Western Journal of Anthropology 10:416–431.
Needham, R. 1964. "Temer Names." Journal of the Malayan Branch, Royal Asiatic Society 37:121–125.
Needham, R. 1965. "Death-names and Solidarity in Penan Society." Journal of the Malayan Branch, Royal Asiatic Society 38:58–76.
Obeng, S.G. 1981. Nouns and Nominalization inAkan. Unpublished BA (Hons.) Dissertation. Legon: Linguistics Department,U of Ghana.
Obeng, S.G.1994a. "Speaking the Unspeakable in Akan Discourse." Papers in Ghanaian Linguistics 9:22–36.
Obeng, S.G. 1994b. "Verbal Indirection in Akan Informal Discourse. " Journal of Pragmatics 21:37–65.
Obeng, S.G. (in preparation). African Onomastics: A Morpho-semantic and Sociolinguistic Analyses.
Oduyoye, M. 1982. Yoruba Names: Their structure and Meaning. London: Karnak House.
Okwany, A.L. 1998. Luo Names. Paper Presented at the African Linguistics Seminar. Bloomington: Indiana University.
Opoku, A.A. 1967. Obi Kyere. Accra: Bureau of Ghana Languages.
Oyetade, A.B. 1997. "Some Place Names in Akokoland." African Languages and Cultures 10:157–180.
Sarpong, P. 1974. Ghana in Retrospect. Some Aspects of Ghanaian Culture. Accra: Ghana Publishing Corporation.
Searle J.R. 1975. "Indirect Speech Acts." In Peter Cole & Jerry Morgan, eds., Syntax and Semantics, vol 3: Speech Acts. New York: Academic P.
Stewart, J. 1993. African Names. Names from the African Continent for Children and Adults. New York: Carol Publishing Group.
Strathern, A. 1970. "Wiru Penthonyms." Bijdragen Tot de Taal-Landen Volkenkunde 121:58–76.
Suzman, S.M. 1994. "Names as Pointers: Zulu Personal Naming Practices." Language in Society 23:253–72.
Thipa, H.M. 1983. "By their Names you shall Know them." Proceedings of the 2nd Southern African Name Congress. Pretoria: South Africa,286–291.
Ubahakwe, E. 1981. Igbo Names .'Their Structure and their Meanings. Ibadan: Daystar P.
Umunna, I. 1968. "Ibo Names and the Concept of Death." African Scholar 1:28.
Zawawi, S.M. 1993. What's in a Name? XJnaitwaje? A Swahili Book of Names. Trenton: Africa World P.