Research Article
A Medley in the Spectrum: Color Names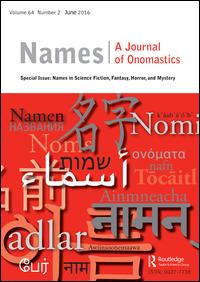 Published 1999-09-01
Copyright (c) 1999 Maney
This work is licensed under a Creative Commons Attribution 4.0 International License.
Abstract
Abstract
[To my mentor and my friend Wilhelm Nicolaisen, who has many times dragged me clear of onomastic disasters, I dedicate this small token of my respect for his great mastery of scholarship in many disciplines and also for his witty and colorful personality]
Color names can all be called metaphorical and have come about in accord with human concepts of reality or realities. They are also arbitrary; and probably in common with all names, they have no real relationship with the material, but they take on a reification of their own. So far, lexicographers have not accepted the advertising nomenclature, preferring to rely on earlier names and on chemical synthetic bases of natural pigments. Occasionally, the base or original color combinations take on the name of the mixer, Bke being an instance, from the name of the originator, Nathan Bice, although advertisers generally ignore original names and freely substitute their own preferences.