Research Article
The Origin and Meaning of 'Missouri'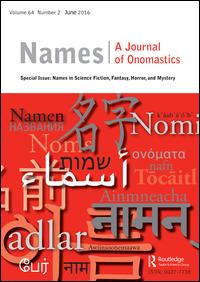 Published 1999-09-01
Copyright (c) 1999 Maney
This work is licensed under a Creative Commons Attribution 4.0 International License.
Abstract
Abstract
The name Missouri derives from 8emessourit, an Algonquian term that refers to "people with canoes (made from logs)," and the popular mistranslation "muddy water" derives from Pekitanoui, an Algonquian name for the river. These terms were first used in 1673 by Marquette in his journal and on his map of the Mississippi River and it tributaries. Within a generation, French explorers and cartographers, using a variety of spellings and grammatical forms, had simplified the name to Missouri and applied it to the river as well as to the people, completely abandoning Pekitanoui. Those who lived on its banks—the Otos and Missouris—had other (Siouan) terms for the river. The word Missouri has become a popular American toponym and now is used in over 300 names in the USGS database.
References
Cheney, Roberta Carkeek. 1983. Names of Montana. Missoula: Mountain Press Publishing.
Cutler, Charles L. 1994. O Brave New Words! Native American Loanwords in Current English. Norman: University of Oklahoma Press.
Dailey, Truman Washington. 1988. Interview with Donald M. Lance, Columbia, Missouri, September 27.
Dailey, Truman Washington. 1992. Interview by Donald M. Lance, Otoe-Missouria Campground, Red Rock, Oklahoma, July 19.
Deur, Douglas. 1996. "Chinook Jargon Placenames in Points of Mutual Reference: Discourse, Intersubjectivity, and Environment Within an Intercultural Toponymie Complex." Names 44: 291–321.
Foley, William E. The Genesis of Missouri: From Wilderness Outpost to Statehood. Columbia: University of Missouri Press,1989.
Gordon, Jeffrey J. 1984. "Ononandaga Iroquois Placenames: An Historical Approach to Historical and Contemporary Indian Landscape Perception." Names 32: 218–33.
Harrington, John P. 1951. "New Materials on the Name Missouri Unpublished manuscript, National Anthropological Archives at the Smithsonian Institute, Washington, D.C. Published in Comments on Etymology, Vol. 14, No. 7–8 (January 1985): 3–25.
Hartley, Alan H. 1980. "The Expansion of Ojibway and French Place- names into the Lake Superior Region in the Seventeenth Century." Names 28: 43–68.
Hodge, Frederick Webb. 1907, 1910. Handbook of American Indians North of Mexico. 2 vols. Smithsonian Institution, Bureau of American Ethnology, Bulletin 30, Part I. Washington: Government Printing Office.
Lance, Donald M. 1985. "The Origin and Pronunciation of 'Missouri'." Missouri Folklore Society Journal 7: 1–27.
Lewis, Merriwether and William Clark. 1893. The History of the Lewis and Clark Expedition, 4 vols. Ed. Elliott Coues. New York: Francis P. Harper.
McArthur, Lewis L. 1996. "Anglicized Native American Placenames in Oregon: Their Number and Distribution." Names 44: 322–32.
McGillicuddy, Valentine T. 1912. "Black Hills Names." South Dakota Historical Collection 6: 273–274.
Meyer, Duane. 1970. The Heritage of Missouri: A History. St. Louis: State Publishing Co.
Nyrop, Kr. 1899. Grammaire Historique de la Langue Française. Copenhagen: Det Nordiske Forlag.
Pace, George B. 1960. "Linguistic Geography and Names Ending with ." American Speech 35: 175–87.
Peters, Bernard C. 1984. "The Origin and Meaning of Chippewa Place Names Along the Lake Superior Shoreline Between Grand Isle and Point Abbaye." Names 32: 234–51.
Ramsay, Robert L. 1952. Our Storehouse of Missouri Place Names. Missouri Handbook Number Two. Columbia: University of Missouri. Rpt.1973. Columbia: University of Missouri Press.
Read, Allen Walker. 1933. "Pronunciation of the Word 'Missouri'." American Speech 4: 22–36.
Rickard, Peter. 1968. La Langue Française au Seizième Siècle: Étude Suivie de Textes. Cambridge: Cambridge University Press.
Shea, John Gilmary. 1852. Discovery and Exploration of the Mississippi Valley: With the Original Narratives of Marquette, Allouez, Membre, Hennepin, and Anastase Douay. New York: Redfield.
Shoemaker, Floyd Calvin. 1943. Missouri and Missourians: Land of Contrasts and People of Achievements. 5 vols. Chicago: Lewis Publishing Co.
Switzler, William F. 1897. Booneville, MO Democrat, October 22. Rpt. 1923 Missouri Historical Review 17: 231–32.
Temple, Wayne C. 1975. Indian Villages of the Illinois Country, Part I Atlas, Supplement. Springfield: Illinois State Museum.
Tucker, Sara Jones. 1942. Indian Villages of the Illinois Country, Part I Atlas. Springfield: Illinois State Museum.
U. S. Geological Survey. 1998. Government Names Information System, http://www-nmd.usgs.gov/www/gnis/.
Vogel, Virgil J. 1960. "The Origin and Meaning of 'Missouri'." Missouri Historical Society Bulletin 16: 213–22.
Wiirtemberg, Duke Paul Wilhelm. 1835. First Journey to North America in the Years 1822 to 1824. In South Dakota Historical Collection 19 (1938) 7–462. Trans. William G. Bek.
Wood, W. Raymond. 1984. "Mapping the Missouri River Through the Great Plains, 1673–1895." Great Plains Quarterly 4: 29–42.