Research Article
The Transfer of Scottish Placenames to Canada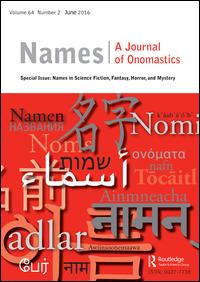 Published 1999-09-01
Copyright (c) 1999 Maney
This work is licensed under a Creative Commons Attribution 4.0 International License.
Abstract
Abstract
Scottish migration to the area of present-day Canada was so intensive from the late 1700s to the early 1900s that nearly two million Canadians claimed Scottish ancestry after the middle of the twentieth century. Through their placenames the Scots were able to reinforce their presence in Canada. Settlements in Nova Scotia and Prince Edward Island were mainly developed by migrants from the Highlands and Western Isles in the late 1700s and early 1800s, so that most of their names recall places in those parts of Scotland. In the remaining provinces and territories (except Newfoundland, which had no direct migration from Scotland), most of the transfer names came from the Lowland parts of Scotland, principally during the 1800s. From Inverness in Nova Scotia's Cape Breton Island amd Strathgartney in Prince Edward Island to Lanark in Ontario, and Thurso in Quebec to Banff in Alberta, and Clyde River in Nunavut, Canada reveals an extensive Scottish contribution to its rich toponymy.
References
Andrews, Allen. 1981. The Scottish Canadians. Toronto, New York, Cincinnati. London, Melbourne: Van Nostrand Reinhold Ltd.
Barry, Bill. 1997. People Places: Saskatchewan and its Names. Regina: Canadian Plains Research Center,University of Regina.
Clark, Andrew Hill. 1959. Three Centuries and the Island: A Historical Geography of Settlement and Agriculture in Prince Edward Island. Toronto: U of Toronto P.
Davey, William. 1998. "Naming Patterns on Cape Breton Island: 1820–1890." Onomastica Canadiana 80, 1:1–25.
Fraser, Ian A. 1986. "Placenames of Scottish Origin in Nova Scotia." Names 34, 3: 364–72.
Hill, Douglas. 1972. The Scots of Canada. London, England: Gentry Books. Hornsby, Stephen J. 1988. "Migration and Settlement: The Scots of Cape Breton." in Douglas Day (Ed.), Geographical Perspectives on the Maritime Provinces, Halifax: Saint Mary's University, 15–24.
Hill, Douglas. 1992. Nineteenth-Century Cape Breton: A Historical Geography. Montreal & Kingston: McGill-Queen's UP.
Kirkconnell, Watson. 1970. "Scottish Place-names in Canada." Onomastica 39. Winnipeg: Canadian Institute of Onomastic Sciences.
Rayburn, Alan. 1975. Geographical Names of New Brunswick. Ottawa: Surveys and Mapping Branch, Energy,Mines and Resources Canada.
Rayburn, Alan. 1973. Geographical Names of Prince Edward Island. Ottawa: Surveys and Mapping Branch, Energy,Mines and Resources Canada.