Research Article
Edwin D. Lawson–Scholar and Gentleman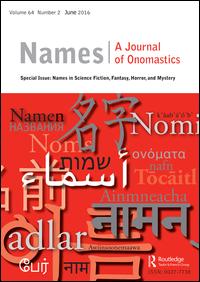 Published 2007-12-01
Copyright (c) 2007 Maney
This work is licensed under a Creative Commons Attribution 4.0 International License.
References
Callary, Edward. 2003. "Ed Lawson's Contributions to Onomastics." In Demsky (2003). Pp. 21–24.
Ciardi, John. 1988. SaipaniThe War Diary of John Ciardi. Fayetteville: Univ. of Arkansas P.
Demsky, Aaron, ed. 2003. These Are The NamesiStudies in Jewish Onomastics 4. Ramat Gan, Israel: Bar-Ilan Univ. P.
Lawson, Edwin D. 2001. "Memories." Names 49: 231–35.
Smith, Elsdon C. 1952. Personal NamesiA Bibliography. New York: New York Public Library.