Research Article
Ethnic Marked Names as a Reflection of United States Isolationist Attitudes in Uncle $crooge Comic Books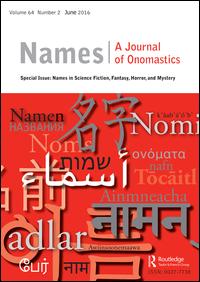 Published 2008-03-01
Copyright (c) 2008 Maney Publishing
This work is licensed under a Creative Commons Attribution 4.0 International License.
Abstract
Abstract
This paper examines the ethnic-marked names created by Carl Barks, the writer/artist of one of the most popular Walt Disney comic book series of the 1950s and 1960s. My thesis is that, in the years following World War II, many Americans had isolationist feelings, and one of the reasons for the success of the Uncle $crooge comic books is that they fed into these feelings on almost a subconscious level.
References
Andrae, Thomas, 2006. Carl Barks and Disney Comic Books: Unmasking the Myth of Modernity, Jackson: University Press of Mississippi.
Ault, Donald, 2003. Carl Barks Conversations, Jackson: University Press of Mississippi.
Disney Comic Mailing List Archives. http://nafsk.se/mailman/listinfo/dcml
Kenyon, Sherrilyn, 2005. The Writer's Digest Character Naming Sourcebook, Writer's Digest Books.
Willits, Malcolm, D. Thompson, and M. Thompson, 1981. The Duck Man, interview with Carl Barks, The Duckburg Times, nos 10/11:27.
Uncle Scrooge comic books written and illustrated by Carl Barks, published by Walt Disney Corporation, and consulted for this paper (listed chronologically)
Christmas on Bear Mountain, 1947
Ancient Persia, 1949
Lost in the Andes, 1949
The Mines of King Solomon, 1950
Tralla La, 1953
Chisel McSue and the Horse Radish Treasure, 1953
Seven Cities of Cibola, 1954
The Second Richest Duck, 1956
A Cold Bargain, 1957
Prize of Pizzaro, 1959
Hound of Whiskervilles, 1960
Boat Buster, 1961
The Many Faces of Magica deSpell, 1964
The Golden Helmet, 1964
Monkey Business, 1965
North of the Yukon, 1965
Mystery of the Ghost Town Railroad, 1965.