Research Article
Names in Multilingual-Multicultural Malaysia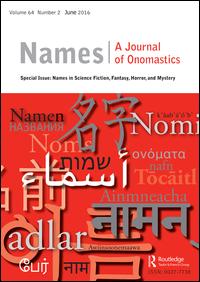 Published 2008-03-01
Copyright (c) 2008 Maney Publishing
This work is licensed under a Creative Commons Attribution 4.0 International License.
Abstract
Abstract
Malaysia is a multilingual-multicultural country. A study of personal and family names in Malaysia is not only interesting but also profound as this country is composed of three major ethnic groups: Malays, Chinese, and Indians. A name is one of the things that give individuals their own special identity, while also helping others identify the person. The focus of this paper is on ethnicity and names with special reference to Self Identity, Ethnic Identity, and Nation Identity. Factors affecting the above include race, religion, culture, language, dialect, and nationality. Issues that arise from such a study are of great importance not only to the individual but also to the individual as a member of a family and of a particular ethnic group, and at the macro level, as a member of a nation.
References
Deluzain, Edward H., 1996. Names and Personal Identity, http://www/behindthename.com
Louie, Emma Woo, 2005. 'Remarkable Similarities Between Traditional Chinese and Anglo-Saxon England's Naming Customs,' Names, 54: 211–20.
Reid, Anthony J., 2006. 'Southeast Asian Names: Why it makes a Difference?' Paper presented at a seminar at Asia-Europe Institute, University of Malaya, Malaysia,4 December 2006.
'Mother of missing baby not eating and sleeping right,' Star, 23 June 2005, Nation section, Malaysian edition.
'China recognizes Confucius women kin for first time,' Star, 27 September 2006, World updates, Malaysian edition.
'The Malaysian not there yet,' Star, 21 July 2006, Nation section, Malaysian edition.