Research Article
A Note on Perceived Male/Female Differences in the Giving of Less-Than-Perfect Names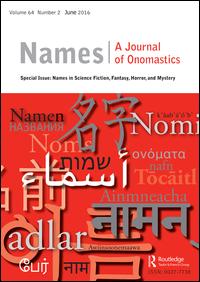 Published 2008-03-01
Copyright (c) 2008 Maney Publishing
This work is licensed under a Creative Commons Attribution 4.0 International License.
References
Bauer, Joan. 'Hardware', in Necessary Noise: Stories about our Families as They Really Are, ed. Michael Cart (New York: Joanna Cotler Books/HarperCollins, 2003), pp. 1–22.
Brooks, Bruce. 1986. Midnight Hour Encores. New York: HarperCollins.
Curtis, Christopher Paul. 1999. Bud, Not Buddy. New York: Random House.
Cushman, Karen. 1996. The Ballad of Lucy Whipple. New York: Clarion.
Horvath, Polly. 2003. The Canning Season. New York: Farrar, Straus, & Giroux.
Lewis, C. S. 1952. The Chronicles of Narnia: The Voyage of the Dawn Treader. New York: HarperCollins. Paterson, Katherine. 1978. The Great Gilly Hopkins. New York: HarperCollins.
Paulsen, Gary. 2003. "Orvis Orvisen and the Crash and Bash." How Angel Peterson Got His Name: And Other Outrageous Tales about Extreme Sports. New York: Random House. pp. 55–75.
Silverstein, Shel (lyrics), Cash, Johnny (music). 1969. "A Boy Named Sue." Johnny Cash at San Quentin. First recorded for a BBC broadcast of a live concert at San Quentin (California) Prison.
White, E. B. 1951. Charlotte's Web, New York: HarperCollins.