Research Article
Naming, Re-Naming and Self-Naming Among Hmong-Americans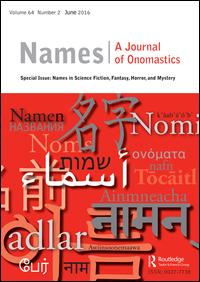 Published 2009-12-01
Keywords
Copyright (c) 2009 Maney Publishing
This work is licensed under a Creative Commons Attribution 4.0 International License.
Abstract
Abstract
Hmong-Americans in Wisconsin use the semantic resources of the Hmong language and social semantic connotations of the naming system to create meaning in personal names. Name changes can be made for functional reasons: a name change can be done to protect the individual against ghosts, spirits or illness. Name changes can also mark life status changes: women gain a new name when they marry, while men are re-named by their parents-in-law, usually after the birth of the first child.
References
Exner, Frank, Little Bear. 2007. "North American Indians: Personal Names with Semantic Meaning." Names 55: 3–15.
Hamilton-Merritt, Jane. 1993. Tragic Mountains: The Hmong, the Americans, and the Secret Wars for Laos, 1942–1992. Bloomington: Indiana University Press.
Hein, Jeremy. 2006. Ethnic Origins: The Adaptation of Cambodian and Hmong Refugees in Four American Cities. New York: Russell Sage Foundation.
Jaisser, Annie. 1995. Hmong for Beginners. Berkeley, CA: Centers for South and Southeast Asia Studies.
Lillian, Donna L. 2008. "Ethnicity and Women's Courtesy Titles: A Preliminary Report." Names 56: 231–238.
Lo, Fungchatou. 2003. The Promised Land. Bristol, IN: Wyndham Hall Press.
Makondo, Livingstone. 2008. "Ethnicity and Matriarchal Protest: A Case of Dialoguing Shona Personal Names." Names 56: 10–18.
Mill, John Stuart. 1973. A System of Logic Ratiocinative and Inductive. Ed. J.M. Robson. Toronto: University of Toronto Press.
Nilsen, Alleen Pace, and Don L. F. Nilsen. 2008. "Guest Editorial". Names 56: 3–5.
Smalley, William, Chia Koua Vang and Gnia Yee Yang. 1990. Mother of Writing. Chicago: University of Chicago Press.
Zuercher, Kenneth. 2007. "Personal Names in Azerbaijan: A Quantitative Analysis." Names 55: 87–102.