Research Article
What's in a Brand Name? A Note on the Onomastics of Brand Naming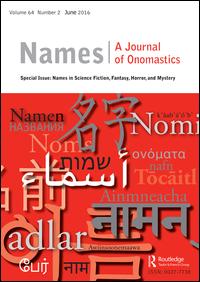 Published 2011-09-01
Keywords
URSULA K. LE GUIN

,

ONOMATURGY

,

LITERARY ONOMASTICS

,

AESTHETICS OF INVENTED NAMES

,

NAMES IN SCIENCE FICTION AND FANTASY
Copyright (c) 2011 Maney Publishing
This work is licensed under a Creative Commons Attribution 4.0 International License.
Abstract
Abstract
This note looks at the main strategies used by marketers and manufacturers to name products. It gives an overview of these strategies, starting with the history of brand-naming and ending up with the current practice of using Internet-style strategies for naming products. The idea in brand-naming is to create a "code" of latent meanings for the product that the consumer can grasp either consciously or unconsciously.
References
Altman, Lynn. 2006. Brand It Yourself: The Fast, Focused Way to Marketplace Magic. New York: Portfolio.
Baudrillard, Jean. 1983. Simulations. New York: Semiotext(e).
Cook, Vivian. 2004. Why Can't Anybody Spell? New York: Touchstone, 2004.
Danesi, Marcel. 2008. Why It Sells: Decoding the Meanings of Brand Names, Logos, Ads, and Other Marketing and Advertising Ploys. Lanham: Rowman & Littlefield.
Frankel, Alex. 2004. Word Craft: The Art of Turning Little Words into Big Business. New York: Three Rivers Press.
Klein, Naomi. 2000. No Logo: Taking Aim at the Brand Bullies. Toronto: Alfred A. Knopf, 2000.
Neumeier, Marty. 2006. The Brand Gap. Berkeley: New Riders.
Nuessel, Frank. 2010. A Note on Names for Energy Drink Brands and Products. Names 58: 102–110.
Roy, Marina. 2000. Sign After the X. Vancouver: Advance Artspeak.
Spiegel, David L., Timothy J. Coffey, and Gregory Livingston. 2004. The Great Tween Buying Machine. Chicago: Dearborn Trade Publishing.
Wheeler, Alina. 2003. Designing Brand Identity. New York: John Wiley & Sons.
Wolfe, O. 1989. Sociosemiology and Cross-Cultural Branding Strategies. Marketing Signs 3: 3–10.