Research Article
Naming and War in Modern Germany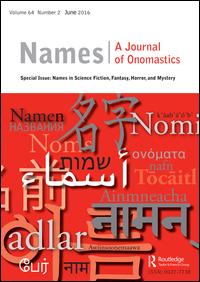 Published 2012-06-01
Keywords
literary onomastics

,

John Milton

,

Mark Twain

,

active naming

,

labeling
Copyright (c) 2012 American Name Society 2012
This work is licensed under a Creative Commons Attribution 4.0 International License.
Abstract
Abstract
This paper analyzes naming behavior in Germany in the context of rapid social change. It begins with an overview of general developments in naming in Germany over the last one hundred years, based on data from the German Socio-Economic Panel Study (SOEP), which supplies us with almost 45,000 datasets. The paper focuses on the periods of World War II and the Cold War since we conclude that general developments in naming were disrupted by these two phenomena. Wartime brings accelerated social change in its wake and people react to this social change — often on an apparently individual level. Here, our findings are in accordance with established sociological theories.
References
Baayen RHarald. 2001. Word Frequency Distributions. Vol. 18. Dordrecht: Kluwer Academic Publishers.
Berger JonahA, Mens Gael Le. 2009. How Adoption Speed Affects the Abandonment of Cultural Tastes. PNAS Early Edition 106: 8146–8150.
Bohle, Hans Hartwig, Wilhelm Heitmeyer, Wolfgang Kühnel, and Uwe Sander. 1997. Anomie in der modernen Gesellschaft: Bestandsaufnahme und Kritik eines klassischen Ansatzes soziologischer Analyse. Was treibt die Gesellschaft auseinander? Ed. Wilhelm Heitmeyer. Frankfurt/Main: edition suhrkamp, 29–65.
Bourdieu Pierre. 1982. Die feinen Unterschiede: Kritik der gesellschaftlichen Urteilskraft. Frankfurt am Main: Suhrkamp.
Brockmann Hilke. 1999. Girls Preferred? Changing Patterns of Gender Preferences in the Two German States. Rostock: Max-Planck-Institut für demografische Forschung <http://ideas.repec.org/p/dem/wpaper/wp-1999-010. html> (Accessed 10 April 2010).
Dahrendorf Ralf. 1979. Lebenschancen: Anläufe zur sozialen und politischen Theorie. Frankfurt am Main: Suhrkamp Taschenbuch Verlag.
Dudenredaktion and Gesellschaft für deutsche Sprache. 2001. Thema Deutsch Band 2: Name und Gesellschaft: Soziale und historische Aspekte der Namengebung und Namenentwicklung. Wiesbaden: Dudenverlag: Bibliographisches Institut and F. A. Brockhaus AG.
Eshel Amram. 2001. On the Frequency Distribution of First Names. Names: A Journal of Onomastics 49(1): 55–60.
Gerhards Jürgen, Hans Silke. 2009. From Hasan to Herbert: Name-Giving Patterns of Immigrant Parents between Acculturation and Ethnic Maintenance. American Journal of Sociology 114(4): 1102–1128.
Hillmann Karl-Heinz. 1989. Wertwandel: Ursachen, Tendenzen, Folgen. Würzburg: Carolus Verlag e.K.
Himmelreicher RalfK, Sewöster Daniela, Scholz Rembrandt, Schulz Anne. 2008. Die fernere Lebenserwartung von Rentnern und Pensionären im Vergleich. WSI Mitteilungen 2008(5): 274–280.
Hirschman Albert Otto. 1964. The Paternity of an Index. American Economic Review 54(5): 761.
Huschka Denis, Gerhards Jürgen, Gert GWagner. 2005. Messung und Analyse des sozialen Wandels anhand der Vergabe von Vornamen: Aufbereitung und Auswertung des SOEP: Dokumentation der Datenbasis und der Vercodung. Berlin: Deutsches Institut für Wirtschaftsforschung (DIW) Berlin, <http://www.polsoz.fu-berlin.de/soziologie/arbeitsbereiche/makrosoziologie/projekte/dateien/projektdoku_vornamen.pdf> (Accessed 16 June 2009).
Huschka Denis, Gerhards Jürgen, Gert GWagner. 2009. Naming Differences in Divided Germany. Names: A Journal of Onomastics 57(4): 208–228.
Huschka Denis, Gert GWagner. 2010. Statistical Problems and Solutions in Onomastic Research — Exemplified by a Comparison of Given Name Distributions in Germany throughout the 20th Century. SOEP Papers 332. Berlin: Deutsches Institut für Wirtschaftsforschung (DIW) Berlin.
Kelly WilliamA. 1981. A Generalized Interpretation of the Herfindahl Index. Southern Economic Journal 48(1): 50–57.
Laversuch ImanM. 2010. Margarete and Sulamith under the Swastika: Girls' Names in Nazi Germany. Names: A Journal of Onomastics 58(4): 219–230.
Meulemann Heiner. 2009. Religiosity in Europe and in the Two Germanies: The Persistence of a Special Case — as Revealed by the European Social Survey. Church and Religion in Contemporary Europe: Results from Empirical and Comparative Research. Wiesbaden: VS Verlag für Sozialwissenschaften.
Platzdasch Günter. 2006. Weblogs trotzen dem Einsatz der Schönheitschirurgie im Krieg. Medien und Krieg — verhindern, dulden oder rechtfertigen? Ed. Lothar Schröter and Frank Schubert. Schriftenreihe der Rosa-Luxemburg-Stiftung e.V. Beiträge zur Militärgeschichte und Militärpolitik. Schkeuditz: Schkeuditzer Buchverlag, 8: 51–89.
Schenk Martin. 2010. Armut in Österreich — die halbierte Freiheit. Armut und Reichtum in der Geschichte Österreichs. Ed. Ernst Bruckmüller. Oldenbourg Wissenschaftsverlag, 215–238.
Schoirer Michael. 2010. NS-Diktatur, Anomie und Demokratisierung Westdeutschlands. Berlin: Wissenschaftlicher Verlag Berlin.
Simmel Georg. 1901. Fashion. The Rise of Fashion: A Reader. Minnesota: University of Minnesota Press.
Tucker DKenneth. 2001. Distribution of Forenames, Surnames, and Forename-Surename Pairs in the United States. Names: A Journal of Onomastics 49(2): 69–96.
——. 2002. Distribution of Forenames, Surnames, and Forename-Surname Pairs in Canada. Names: A Journal of Onomastics 50(2): 105–132.
Wagner GertG, Joachim RFrick, Schupp Jürgen. 2007. The German Socio-Economic Panel Study (SOEP) — Scope, Evolution and Enhancements. Schmollers Jahrbuch 127(1): 139–169.
Weber Max. 1978. Economy and Society. New edn. Berkeley: University of California Press.
Wolffsohn Michael, Brechenmacher Thomas. 1999. Die Deutschen und ihre Vornamen: 200 Jahre Politik und öffentliche Meinung. Munich: Diana Verlag AG.