Research Article
Nicknames in Australian Secondary Schools: Insights into Nicknames and Adolescent Views of Self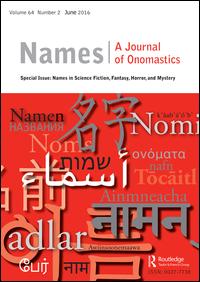 Published 2012-09-01
Keywords
character names

,

metaphor

,

popular reading culture

,

myth

,

occultism
Copyright (c) 2012 American Name Society 2012
This work is licensed under a Creative Commons Attribution 4.0 International License.
Abstract
Abstract
Although it is widely known that language practices can significantly affect adolescent self-image, research studies on adolescent naming practices are surprisingly scarce. The only study to date on nicknames in Australia was undertaken by Chevalier (2006). Her study provides a comprehensive analysis of morphological and semantic features of names but makes no reference to adolescent language practices and their role in society. Our exploration of initial responses to questionnaire data administered to secondary students in Victoria and Queensland schools considers: (i) common adolescent nicknaming practices and (ii) attitudes of adolescents to nick-names used for others and towards nicknames. We end with suggestions for raising awareness of naming practices to promote cultural and linguistic sensitivity amongst high school students.
References
Adams Michael. 2009. Power, Politeness, and the Pragmatics of Nicknames. Names 57(2): 81–91.
Allan Keith, Burridge Kate. 2006. Forbidden Words: Taboo and the Censoring of Language. Cambridge: Cambridge University Press.
Atkinson DGMorten, Sue D.. 1983. Counseling American Minorities. Dubuque, IA: William. C. Brown.
Bardsley Dianne, Simpson Jane. 2009. Hypocoristics in New Zealand and Australian English. In: Comparative Studies in Australia and New Zealand: Grammar and Beyond. Ed. P. Peters, P. Collins, and A. Smith. Amsterdam: Benjamins, pp. 49–70.
Bechar-Israeli Heya. 1995. From 'Bonehead' to 'cLoNehEAd': Nicknames, Play and Identity on Internet Relay Chat. Journal of Computer-Mediated Communication, 1·2. Available at: <http://jcmc.indiana.edu/vol1/issue2/bechar.html> (Accessed 20 January, 2012).
Caltabiano Nerina. 1984. Perceived Differences in Ethnic Behaviour: A Pilot Study of Italo-Australian Canberra Residents. Psychological Reports 55: 867–873.
Chevalier Sarah. 2004. Nicknames in Australia. Bulletin Suisse de Linguistique Appliquée 80 (Winter): 125–137.
Chevalier Sarah. 2006. Ava to Zac: A Sociolinguistic Study of Given Names and Nicknames in Australia. Tubingen: Francke Verlag.
Clyne Michael, Hajek John, Kipp Sandra. 2008. Tale of Two Multilingual Cities in a Multilingual Continent. People and Place 16(3): 1–9.
Crozier WRay. 2002. Donkeys and Dragons: Recollections of Schoolteachers' Nicknames. Educational Studies 28(2): 133–142.
Crozier WRay, Dimmock Patricia. 1999. Name-calling and Nicknames in a Sample of Primary School Children. British Journal of Educational Psychology 69(4): 505–516.
de Klerk Vivian, Bosch Barbara. 1996. Nicknames as Sex-role Stereotypes. Sex Roles 35(9–10): 525–541.
de Klerk Vivian, Bosch Barbara. 1997. The Sound Patterns of English Nicknames. Language Sciences 19(4): 289–301.
Erikson Erik. 1968. Identity: Youth and Crisis. New York: Norton.
Hendershot Candace, Joseph ADake, James HPrice, Grace KLartey. 2006. Elementary School Nurses' Perceptions of Student Bullying. The Journal of School Nursing 22(4): 229–236.
Hogg MA, Abrams D., Patel Y.. 1987. Ethnic Identity, Self-esteem, and Occupational Aspirations of Indian and Anglo-Saxon British Adolescents. Genetic, Social, and General Psychology Monographs 113: 487–508.
Kim Jean 1981. The Process of Asian-American Identity Development: A Study of Japanese American Women's Perceptions of their Struggle to Achieve Positive Identities. Unpublished doctoral dissertation, University of Massachusetts.
Lee Jung-Eun. 2009. She is Hungarious so she's Mexican but she's Most Likely Indian: Negotiating Ethnic Labels in a California Junior High School. Pragmatics 19(1): 39–63.
Liao Chai-chih. 2006. Linguistic Analysis of Nicknames of Junior High School Students. Journal of Language and Linguistics 5(1): 68–86.
Liddicoat Anthony. 1996. The Narrowing Focus: Australian Language-in-Education Policy. Babel 31(1): 1–6, 24.
Liddicoat Anthony 2009. Evolving Ideologies of the Intercultural in Australian Multicultural and Language Education Policy. Journal of Multilingual and Multicultural Development 30(3): 189–203.
Bianco Lo, Jo with Yvette Slaughter. 2009. Second Languages and Australian Schooling. Australian Council for Educational Research. Camberwell: Victoria.
Marcia JamesE. 1966. Development and Validation of Ego-identity Status. Journal of Personality and Social Psychology 3(5): 551–558.
Marcia JamesE 1980. Identity in Adolescence. In: Handbook of Adolescent Psychology. Ed. J. Adelson. New York: Wiley, pp. 159–187.
MCEETYA Ministerial Council on Education, Training and Affairs Youth. 2005. National Statement for Languages Education in Australian Schools: National Plan for Language Education in Australian Schools 2005–2008. Hindmarsh: DECS Publishing.
Morgan Jane, O'Neill Christopher, Harré Rom. 1979. Nicknames: Their Origins and Social Consequences. London: Routledge and Kegan Paul.
Phinney Jean. 1989. Stages of Ethnic Identity in Minority Group Adolescents. Journal of Early Adolescence 9: 34–49.
Phinney Jean. 1990. Ethnic Identity in Adolescents and Adults: Review of Research. Psychological Bulletin 108(3): 499–514.
Poyton Cate. 1990. Address and The Semiotics of Social Relations: A Systemic-Functional Account of Address Forms and Practices in Australian English. Unpublished doctoral dissertation: University of Sydney.
Roberts RobertE, Jean SPhinney, Louise CMasse, Richard Chen Y., Roberts CatherineR, Romero Adrea. 1999. The Structure of Ethnic Identity in Young Adolescents from Diverse Ethnocultural Groups. Journal of Early Adolescence 19: 301–322.
Scarino Angela, Papademetre Leo. 2001. Ideologies, Languages, Policies: Australia's Ambivalent Relationship with Learning to Communicate in 'Other' Languages. In: Australian Policy Activism in Language and Literacy. Ed. J. Lo Bianco and R. Wickert. Melbourne: Language Australia, pp. 307–325.
Starks Donna, Kerry Taylor-Smith 2011. A Research Report on Nicknames and Adolescent Identity. New Zealand Studies in Applied Linguistics 17(2): 87–97.
Taylor Brian. 1992. Otto 988 to Ocker 1988: The Morphological Treatment of Personal Names in Old High German and Colloquial Australian English. In: Language and Civilisation: A Concerted Profusion of Essays and Studies in Honour of Otto Hietsch. Ed. C. Blank. Vol. 2. Frankfurt: Peter Lang, pp. 503–536.
Wardat Mahmud. 1997. Nicknaming in Jordanian Arabic: A Sociolinguistic Perspective. Interface 12(1): 45–58.
Wierzbicka Anna. 1992. Semantics, Culture and Cognition: Universal Human Concepts in Culture-Specific Configurations. Oxford: Oxford University Press.