Research Article
A Note on the Names in Names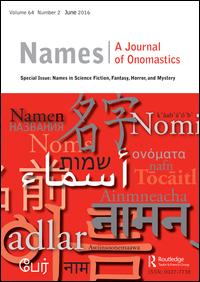 Published 2013-09-01
Copyright (c) 2013 American Name Society 2013
This work is licensed under a Creative Commons Attribution 4.0 International License.
Abstract
Abstract
Names, the journal of the American Name Society, has been publishing articles on names since 1953, but, in the fifty-plus years of publication, Names has yet to publish any studies on the names of the authors who have contributed to the journal. This article examines the names of these contributors in terms of academic associations, prosody, and diversity.
References
Ashley, Leonard N. 2002. 'The American Name Society: The First Fifty Years.' Names 50: 63–72.
Barry, Herbert III and Alylene S. Harper. 2010. 'Racial and Gender Differences in Diversity of First Names. Names 58: 47–54.
Bryant, Margaret M. 1976. 'After 25 Years of Name Study.' Names 24: 30–55.
Croft, Janet. 2009. 'Naming the Evil One.' Mythlore 28: 149–163.
Fonagy, I. 1961. 'Communication in Poetry.' Word 17: 194–218.
Gasque, Thomas J. 2001. 'My Life in Names: A Personal Reminiscence.' Names 300–303.
——. 2010. 'Six Decades of the American Name Society, 1951–2009.' <http://www.wtsn.binghamton.edu/ans/> (Accessed June 11, 2013).
Gustafson, J. 1995. 'Transcripting Names with Foreign Origins in the Onomastica Projects.' Proceedings of the International Congress of Phonetic Sciences 2: 318–321.
Harder, Kelsie, B. 1982. 'Dickens and his Lists of Names.' Names 30: 33–41.
Hughes, Geoffrey. 1998. Swearing: A Social History of Foul Language, Oaths and Profanity in English. London: Penguin.
Jones, J. C. H., Ferguson, D. G., and K. G. Stewart. 1993. 'Blood Sports and Cherry Pie: Some Economics of Violence in the National Hockey League.' American Journal of Economics and Sociology 52: 63–78.
Johnson, Burges. 1998. The Lost Art of Profanity. Indianapolis, IN: Bobbs-Merrill.
Lawson, Edwin, D. 2001. 'Memories.' Names 49: 231–235.
McMullen, E. Wallace. 2001. 'Thinking of the American Name Society.' Names 49: 278–279.
Murray, Thomas E. 2001. 'Onomastics and the Academy: Past, Present, and Future.' Names 49: 215–221.
Roach, Peter. 2009. English Phonetics and Phonology. New York: Cambridge University Press.
Ross, Sherry. 1995. Hockey Scouting Report 1995–1996. Vancouver, BC: Greystone Books.
Tsur, Reuven. 1992. What Makes Sound Patterns Expressive. Durham, NC: Duke University Press.