Article
A Note on the Names for Winter Storms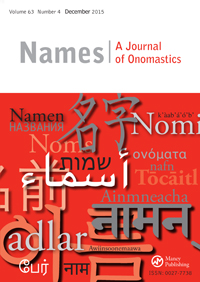 Published 2015-10-02
Copyright (c) 2015 American Name Society
This work is licensed under a Creative Commons Attribution 4.0 International License.
Abstract
This note reviews briefly the history of naming tropical storms. It then discusses the very recent and sometimes controversial phenomenon of naming winter storms. Finally, a list of the most recent designations for winter storms is provided.
References
Adamson, Peter. 2003. "Clement Lindley Wragge and the Naming of Weather Disturbances." Weather 57: 359–363.
Evans, Cleveland. 2013. "2012 Name of the Year." Names: A Journal of Onomastics 61(2): 122–124.
List of Retired Atlantic Hurricane Names. Wikipedia. <http://en.wikipedia.org/wiki/List_of_retired_Atlantic_­hurricane_names> (Accessed March 5 2015).
National Weather Service. 2015. "Tropical Cyclone Naming History and Retired Names." <http://www.nhc.noaa.gov/aboutnames_history.shtml> (Accessed March 5 2015).
Nuessel, Frank. 1992. The Study of Names: A Guide to the Principles and Topics. Westport, CT: Greenwood Press.
Stewart, George R. 1941. Storm. New York: Random House.
Tannehill, Ivan R. 1938. Hurricanes, their Nature and History, Particularly those of the West Indies and the Southern Coasts of the United States. Princeton, NJ: Princeton University Press.
Weather Channel®. 2015a. "The Science behind Naming Winter Storms at The Weather Channel", <http://www.weather.com/news/news/science-behind-naming-winter-storms-weather-channel-20140121> (Accessed March 5 2015).
Weather Channel®. 2015b. "Winter Storm Names 2014–2015: What They Are and What Mean." (Accessed March 5 2015).
Wedgies. 2015. "What should our 'W' winter storm name be this year?" <https://www.wedgies.com/question/5420388ff85d5402000018b2> (Accessed April 25 2015).
Winter Storm Naming in the United States. 2015. <http://en.wikipedia.org/wiki/Winter_storm_naming_in_the_United_States> (Accessed March 5 2015).