Article
The Effects of Months, Holidays, and the Birthdays of Presidents on Choice of Baby Names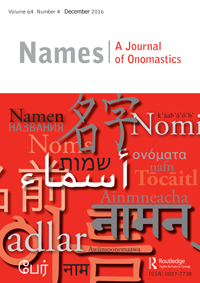 Published 2016-10-01
Copyright (c) 2016 American Name Society
This work is licensed under a Creative Commons Attribution 4.0 International License.
Abstract
The propensity to name babies after US presidents is well known. Less well known is the magnitude of the increased propensity to name babies after presidents when those babies are born on the president's birthday. In this article that propensity is evaluated and, in addition, the increased propensity to name children after various holidays and months is also assessed. The analysis makes use of the Social Security Death Index, which contains records of over 90 million deaths occurring between 1935 and 2014. Tens of thousands of individuals have been named after George Washington and also after some months of the year; smaller estimates of the number of babies named after selected other presidents on their birthday, as well as those named after several different holidays and months, are also provided.
References
Houlbrooke, R. A. 1984. The English Family 1450–1700. London: Longman.
Smith-Bannister, S. 1997. Names and Naming Patterns in England, 1538–1700. Oxford: Clarendon Press.