Article
The Influence of Choice Feminism on Women's and Men's Attitudes towards Name Changing at Marriage: An Analysis of Online Comments on UK Social Media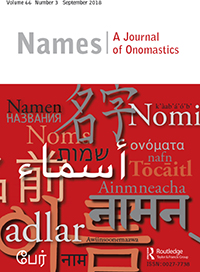 Published 2018-07-03
Copyright (c) 2018 American Name Society
This work is licensed under a Creative Commons Attribution 4.0 International License.
Abstract
Analysis of name changing choices women have undertaken in English-speaking Western countries such as the USA and in the UK indicate that there are various predictors of whether women change their name at marriage or not, one of which is whether they identify as a feminist. This research examines the views of women and men on the issue of choice in name changing at marriage on a UK-based internet forum, Mumsnet, and in the British newspaper The Guardian online and explores whether identification with feminism has an influence on traditional name changing choices performed by women and men. The paper concludes that societal change is necessary to accommodate genuine free choice in name changing at marriage.
References
Abela, Angela, and Janet Walker. 2014. "Global Changes in Marriage, Parenting and Family Life: An Overview." In Contemporary Issues in Family Studies: Global Perspectives on Partnerships, Parenting and Support in a Changing World, edited by Angela Abela and Janet Walker, 5–15. Chichester: Wiley.
Baird, Dougald. 2015. "Mail Online Soars past 200 M Monthly Browsers as Newspaper Sites Bounce Back." The Guardian, Friday 20 February.
Binns, Amy. 2012. "Don't Feed the Trolls! Managing Troublemakers in Magazines' Online Communities." Journalism Practice 6 (4): 547–562.10.1080/17512786.2011.648988
Boxer, Diana, and Elena Gritsenk. 2005. "Women and Surnames across Cultures: Reconstituting Identity in Marriage." Women and Language 28 (2): 1–11.
Braun, Virginia, and Victoria Clarke. 2006. "Using Thematic Analysis in Psychology." Qualitative Research in Psychology 3 (2): 77–101.10.1191/1478088706qp063oa
Budgeon, Shelley. 2015. "Individualised Femininity and Feminist Politics of Choice." European Journal of Women's Studies 22 (3): 303–318.10.1177/1350506815576602
Charmaz, Kathy. 2006. Constructing Grounded Theory: A Practical Guide through Qualitative Analysis. New York: Sage Publications.
Crossley, Alison Dahl. 2010. "'When It Suits Me I'm a Feminist': International Students Negotiating Feminist Representations." Women's Studies International Forum 33: 125–133.10.1016/j.wsif.2009.11.003
Filipovic, Jill. 2013. "Why Should Married Women Change Their Names? Let Men Change Theirs." The Guardian, 7 March. Accessed 4 March, 2013. https://www.theguardian.com/commentisfree/2013/mar/07/women-stop-changing-your-name-when-married
Finch, Janet. 2008. Naming Names. Sociology 42 (4): 709–725.10.1177/0038038508091624
Forbes, Gordon B., Leah E. Adams-Curtis, Kay B. White, and Nicole R. Hamm. 2002. "Perceptions of Married Women and Married Men with Hyphenated Surnames." Sex Roles 46 (5/6): 167–175.
Gardiner, Becky, Mahana Mansfield, Ian Anderson, Josh Holder, Dan Louter, and Monica Ulmanu. 2016. "The Dark Side of Guardian Comments." The Guardian, 12 April.
Goldin, Claudia, and Maria Shim. 2004. "Making a Name: Women's Surnames at Marriage and beyond." The Journal of Economic Perspectives 18 (2): 143–160.10.1257/0895330041371268
Gooding, Gretchen E., and Rose M. Kreider. 2010. "Women's Marital Naming Choices in a Nationally Representative Sample." Journal of Family Issues 31 (5): 681–701.10.1177/0192513X09344688
Hardaker, Claire. 2010. Trolling in Asynchrous Computer-Mediated Communications from User Discussions to Academic Definitions. Journal of Politeness Research 6 (2): 215–242.
Johnson, David R., and Laurie K. Scheuble. 1995. "Women's Marital Naming in Two Generations: A National Study." Journal of Marriage and Family 57 (3): 724–732.10.2307/353926
Kerns, Myleah Y. 2011. "North American Women's Surname Choice Based on Ethnicity and Self-Identification as Feminists." Names 59 (2): 104–117.10.1179/002777311X12976826704244
Laskowski, Kara A. 2010. "Women's Post-Marital Name Retention and the Communication of Identity." Names 58 (2): 75–89.10.1179/002777310X12682237915025
Lewis, Ruth, Michael Rowe, and Clare Wiper. 2016. "Online Abuse of Feminists as an Emerging Form of Violence against Women and Girls." British Journal of Criminology 57 (6): 1462–1481. https://doi.org/10.1093/bjc/azw073.
Lillian, Donna L. 2009. "Social and Regional Variation in Women's Marital Surname Choices." LACUS Forum 34: 147–156.
Lindgren, Simon. 2017. Digital Media and Society. London: Sage.
Lockwood, Penelope, Caitlin Burton, and Katelyn Boersma. 2011. "Tampering with Tradition: Rationales concerning Women's Married Names and Children's Surnames." Sex Roles 65: 827–839.10.1007/s11199-011-0034-1
Manosevitch, Edith, and Dana Walker. 2009. Reader Comments to Online Opinion Journalism: A Space of Public Deliberation. In proceedings of the 10th International Symposium on Online Journalism, Austin, TX.
Marso, Lori J. 2006. Feminist Thinkers and the Demands of Femininity. the Lives and Work of Intellectual Women. New York, NY: Routledge.
Murray, Thomas E. 1997. "Attitudes towards Married Women's Surnames: Evidence from the American Midwest." Names 45 (3): 163–183.10.1179/nam.1997.45.3.163
Noack, Turid, and Kenneth Aarskaug Wiik. 2008. "Women's Choice of Surname upon Marriage in Norway." Journal of Marriage and Family 70: 507–518.10.1111/j.1741-3737.2008.00497.x
Rich, E. 2005. Young women, feminist identities and neo-liberalism. Women's Studies International Forum 28 (6): 495–508.
Roberts, J. 2015. Mumsnet Co-founder Reflects on Growth of Her 'Fifth Child'. The Guardian, March 21. Accessed 4 March 2016. https://www.theguardian.com/lifeandstyle/2015/mar/21/mumsnet-my-fifth-child-is-turning-15
Scheuble, Laurie K., and David R. Johnson. 1998. "Attitudes toward Women's Marital Name Choices." Names 46 (2): 83–96.10.1179/nam.1998.46.2.83
Scheuble, Laurie K., and David R. Johnson. 2005. "Married Women's Situational Use of Last Names: An Empirical Study." Sex Roles 53 (1/2): 143–151.10.1007/s11199-005-4288-3
Scheuble, Laurie K., and David R. Johnson. 2007. Social and Cognitive Factors in Women's Marital Name Choice. Names 55 (3): 229–251.10.1179/nam.2007.55.3.229
Scheuble, Laurie K., and David R. Johnson. 2016. "Keeping Her Surname as a Middle Name at Marriage: What Predicts This Practice among Married Women Who Take Their Husband's Last Name?" Names 64 (4): 202–216.10.1080/00277738.2016.1197645
Scheuble, Laurie K., Katherine Klingemann, and David R. Johnson. 2000. "Trends in Women's Marital Choices: 1966–1996." Names 48 (2): 105–114.10.1179/nam.2000.48.2.105
Stoiko, Rachel R., and JoNell Strough. 2017. 'Choosing' the Patriarchal Norm: Emerging Adults' Marital Last Name Change Attitudes, Plans, and Rationales. Gender Issues 34: 4: 295–31.
Suter, Elizabeth A. 2004. Tradition Never Goes Out of Style: The Role of Tradition in Women's Naming Practices. The Communication Review 7 (1): 57–87.
Suller, J. 2004. "The Online Disinhibition Effect." Cyber Psychology and Behavior 7, no. 3: 321–326.10.1089/1094931041291295
Swirsky, Jill M., and D. J. Angelone. 2014. "Femi-Nazis and Bra Burning Crazies: A Qualitative Evaluation of Contemporary Beliefs about Feminism." Current Psychologies 33: 229–245.10.1007/s12144-014-9208-7
Thwaites, Rachel. 2013. "The Making of Selfhood: Naming Decisions on Marriage." Families, Relationships and Societies 2 (3): 425–439.10.1332/204674313X665913
Twenge, Jean M. 1997. "Mrs. HisName." Psychology of Women Quarterly 21 (3): 417–429.10.1111/j.1471-6402.1997.tb00122.x
Ürper, Dilruba Çatalbaş, and Tolga Çevikel. 2014. "Reader Comments on Mainstream Online Statements in Turkey: Perceptions of Web Editors and Moderators." Journal of Mass Media Ethics 29 (4): 258–272.
Zhu, Hongmei. 2010. "A Cultural Comparison of English and Chinese Family Names." Asian Social Science 6 (11): 226–228.