Article
Offspring Rivers of The United States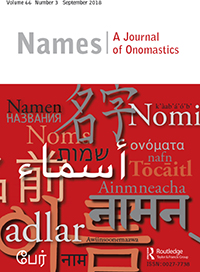 Published 2018-07-03
Keywords
Copyright (c) 2018 American Name Society
This work is licensed under a Creative Commons Attribution 4.0 International License.
Abstract
Streams are significant landmarks in the landscape, often acquiring their specific names before other surface features. In English, rivers stand at the apex of the stream hierarchy. This study looks at those rivers in the United States that have their headwaters, their origin points, at the places where two other rivers, of names different from the resulting river, end, like the Allegheny and Monongahela ceasing to exist downstream of the place where they unite to form the Ohio. An adapted term, offspring, was necessary to designate this special circumstance of what turned out to be 71 rivers in the United States.
References
Aarstad, Rich, Ellie Arguimbau, Ellen Baumler, Charlene Porsild, and Brian Shovers. 2009. Montana Place Names from Alzada to Zortman. Helena: Montana Historical Society Press.
Adieu [pseud.] 1811. "Original Letters, from the Interior of the State of New York." The Balance and State Journal (Albany), February 5.
Alberts, Robert C. 1980. The Shaping of the Point: Pittsburgh's Renaissance Park. Pittsburgh, PA: University of Pittsburgh Press.
Bissell, Richard. 1952. The Monongahela. New York: Rinehart & Co.
Bright, William. 2004. "A Glossary of Native American Toponyms and Ethnonyms from the Lewis and Clark Journals." Names 52: 163–237.10.1179/nam.2004.52.3.163
Bromberg, Frederick G. 1901. "The Coosa River." Bulletin of the American Geographical Society of New York. 33: 67.10.2307/198562
Burmeister, Walter Frederick. 1962. Appalachian Water. 2 vols. Washington, DC: Canoe Cruisers Association.
Celeron, Pierre Joseph. 1892. "Journal of Captain Celeron." In Fort Pitt and Letters from the Frontier, edited by Mary Carson Darlington, 9–62. Pittsburgh, PA: J.R. Weldin & Co.
Doig, Ivan. 1990. Ride with Me, Maria Montana. New York: Antheneum.
Ecuyer, Simeon. 1892. "Journal, Letters and Orderly Book of Captain S. Ecuyer." In Fort Pitt and Letters from the Frontier, edited by Mary Carson Darlington, 84–199. Pittsburgh, PA: J.R. Weldin & Co.
Errett, Russell. 1885. "Indian Geographical Names." Magazine of Western History. 2: 51–59.
First Presbyterian Church. 2017. "Church History." www.fpcknox.org
Geographic Names Information System. Domestic Names. Search Domestic Names. https://geonames.usgs.gov/domestic
Gerard, Philip. 2013. Down the Wild Cape Fear: A River Journey through the Heart of North Carolina. Chapel Hill: The University of North Carolina Press.10.5149/9781469608129_Gerard
Gillespie, William H. 1984. "The Kanawha River." In Rolling Rivers: An Encyclopedia of America's Rivers, edited by Richard A. Bartlett, 126–129. New York: McGraw-Hill Book Company.
Hoover, Herbert T. 1984. "The Missouri River." In Rolling Rivers: An Encyclopedia of America's Rivers, edited by Richard A. Bartlett, 211–216. New York: McGraw-Hill Book Company.
Howarth, William. 2017. "Reading Thoreau at 200." The American Scholar 86: 44–53.
Hulbert, Archer Butler. 1906. The Ohio River: A Course of Empire. New York: G.P. Putnam's Sons.
Hunt, William E. 1885. "The Forks of the Muskingum." Magazine of Western History 1: 278–288.
Hutchins, Thomas. 1904. A Topographical Description of Virginia, Pennsylvania, Maryland, and North Carolina. Edited by Frederick Charles Hicks. Cleveland, OH: The Burrows Brothers Company.
Lance, Donald M. 1999. "The Origin and Meaning of 'Missouri'." Names 47: 281–290.10.1179/nam.1999.47.3.281
McCafferty, Michael. 2004. "'Kankakee': An Old Etymological Puzzle." Names 52: 287–304.10.1179/nam.2004.52.4.287
Mencken, H. L. 1977. The American Language. 4th ed. New York: Alfred A. Knopf.
Michaux, F. A. 1805. Travels to the West of the Allegheny Mountains. 2nd ed. London: Crosby and Co.
Miller, Albert. 1889. "The Rivers of the Saginaw Valley Sixty Years Ago." Collections and Researches Made by the Michigan Pioneer and Historical Society 14: 495–510.
Montgomery, James R. 1956. "The Nomenclature of the Upper Tennessee River." Publications of the East Tennessee Historical Society 28: 46–57.
Morse, Jedidiah. 1797. The American Gazetteer. Boston, MA: Hall and Andrews.
Moulton, Gary E., ed. (1983) 2001. The Journals of the Lewis & Clark Expedition. 13 vols. Lincoln, NE: University of Nebraska Press.
Niles, Blair. 1945. The James: From Iron Gate to the Sea. New York: Farrar & Rinehart.
Ogden (Utah) Standard-Examiner. 1921. "Want River Renamed." February 18.
Palmer, Tim. 1996. America by Rivers. Washington, DC: Island Press.
Parks, Ronald D. 2014. The Darkest Period: The Kanza Indians and Their Last Homeland, 1846–1873. Norman, OK: University of Oklahoma Press.
Pearce, T. M. 1955. "Spanish Place Name Patterns in the Southwest." Names 3: 201–209.10.1179/nam.1955.3.4.201
Reynolds, Hughes. 1944. The Coosa River Valley: From De Soto to Hydroelectric Power. Cynthiana, KY: Hobson Book Press.
Roberts, Thomas P. 1876. "The Upper Missouri River." Contributions to the Historical Society of Montana 1: 234–240.
Shuler, Jay. 1995. Had I the Wings: The Friendship of Bachman and Audubon. Athens: The University of Georgia Press.
Sledge, John S. 2015. The Mobile River. Columbia, SC: University of South Carolina Press.
Stewart, George R. 1939. "Nomenclature of Stream-Forks on the West Slope of the Sierra Nevada." American Speech 14: 191–197.10.2307/451418
Stewart, George R. 1954. "A Classification of Place Names." Names 2: 1–13.10.1179/nam.1954.2.1.1
Thorson, Robert M. 2017. The Boatman: Henry David Thoreau's River Years. Cambridge: Harvard University Press.
U.S. War Department. 1895. Atlas to Accompany the Official Records of the Union and Confederate Armies. 2 vols. Washington, DC: Government Printing Office.
Walcott, Charles H. 1884. Concord in the Colonial Period. Boston, MA: Estes and Lauriat.
Walker, Joseph B. 1863. "The Valley of the Merrimack." Collections of the New Hampshire Historical Society 7: 414–432.
Ward, Lester F. 1885. "A Convenient System of River Nomenclature." Science 6: 321–322.10.1126/science.ns-6.140S.321
Woodlief, Ann. 1985. In River Time: The Way of the James. Chapel Hill, NC: Algonquin Books.
Z [pseud.] 1838. "The Western Rivers." The Western Messenger 5: 273–275.
Zwinger, Ann, and Edwin Way Teale. 1984. A Conscious Stillness: Two Naturalists on Thoreau's Rivers. Amherst: The University of Massachusetts Press.