Article
Old Norse Nicknames: Origins and Terminology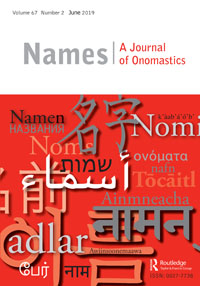 Published 2019-04-03
Copyright (c) 2018 American Name Society
This work is licensed under a Creative Commons Attribution 4.0 International License.
Abstract
Nicknames, which occur in all cultures and time periods, play a unique role in highlighting identity. The pool of first names has always been relatively limited, thus most people were identified by their nicknames, especially before surnames became commonplace. The quantity of nicknames in Old Norse literature is large, and recurring nicknames provide a tool for understanding narrative transmission, cultural history, and etymology. Medieval explanations for giving nicknames are suspect, but they provide a glimpse into the possible reasons for so many of them coming down to us. An overview on nickname terminology is provided, as well as literary examples showing the fluidity of medieval terminology in nickname narrative explanations. The overall approach is therefore to explore the ways in which nicknames are described in the literature and how this information aids in understanding medieval Norse society and culture through its naming customs.
References
Bjarni Aðalbjarnarson, ed. 1941. Haralds saga ins hárfagra. In Heimskringla I. Íslenzk fornrit. Vol. 26. Reykjavik: Hið íslenzka fornritafélag.
Camden, William. 1605. Remaines of a Greater Work, concerning Britaine, the inhabitants thereof, their Languages, Names, Surnames, Empreſes, Wiſe ʃpeeches, Poëſies, and Epitaphes. London: G. E. for Simon Waterson.
Cleasby, Richard, and Gudbrand Vigfússon. 1874. An Icelandic–English Dictionary. Oxford: Oxford University Press.
Eiríkur Jónsson, and Finnur Jónsson, eds. 1892–1896. Tillæg X Annal. In Hauksbók. København: Thiele.
Finnur Jónsson. 1907. Tilnavne i den islandske oldlitteratur. Kjøbenhavn: H.H. Thiele. (Reprinted in 1908).
Guðbrandr Vigfússon, ed. 1864. Eyrbyggja saga. Leipzig: F.C.W. Vogel.
Guðbrandr Vigfússon, and C. R. Unger, eds. 1862. "Hróa þáttr heimska." In Flateyjarbók. Vol. 2. Christiania: Malling.
GuðbrandrVigfússon, and C. R. Unger, eds. 1868. "Saga ens heilaga Eduardar." In Flateyjarbók. Vol. 3. Christiania: Malling.
Janzén, Assar. 1947. "De fornsvenska personnamnen." Personnavne. Nordisk kultur VII, edited by Assar Janzén, 235–268. København: Schultz.
JónJóhannesson, ed. 1950. "Þorsteins saga hvíta." In Austfirðinga sǫgur. Íslenzk fornrit. Vol. 11. Reykjavík: Hið íslenzka fornritafélag.
Jón Sigurðsson, and Guðbrandur Vigfússon, eds. 1858. "Guðmundar biskups saga." In Biskupa sögur. Vol. 1. Kaupmannahöfn: Hið íslenzka bókmentafélag.
Lind, Erik Henrik. 1920–21. Norsk-isländska personbinamn från medeltiden. Uppsala: Lundequistska bokhandeln.
Palmer, Abram Smythe. 1882. Folk-Etymology: A Dictionary of Verbal Corruptions or Words Perverted in Form or Meaning, by False Derivation or Mistaken Analogy. London: George Bell & Sons.
Peterson, Paul. 2015. Old Norse Nicknames. PhD diss., University of Minnesota, Twin Cities. Accessed April 24, 2018. https://www.conservancy.umn.edu/handle/11299/172669
Puttenham, George (ascribed author). 1869. The Arte of English Poesie, edited by Edward Arber. London: Murray & Son. (Orig. pub. 1589.)
Rygh, Karl. 1871. Norske og islandske tilnavne fra oldtiden og middelalderen. Throndhjem: G.E Petersen.
Sigurður Nordal, ed. 1945. Fóstbrœðra saga. In Flateyjarbók. vol. 2. Akranes: Flateyjarútgáfan.
Steblin-Kamenskij, M. I. 1973. The Saga Mind, translated by Kenneth H. Ober. Odense: Odense University Press.
Vilhjálmur Finsen, ed. 1879. Grágás efter det Arnamagnæanske Haandskrift Nr. 334 fol., Staðarhólsbók. Kjøbenhavn: Gyldendal.