Research Article
Hooray For Hollywood: Onomastic rechniques in Bentelntans' "Dirty Eddie"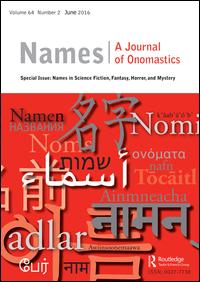 Published 1988-12-01
Copyright (c) 1988 Maney
This work is licensed under a Creative Commons Attribution 4.0 International License.
References
Ashley, Leonard, R.N. "Flicks, Flacks, and Flux: Tides of Taste in Onomasticon of the Moving Picture Industry." Names 23 (1975): 221–280
Ashley, Leonard, R.N. "Ludwig Bemelmans." Great Writers of the English Language: Novelists and Prose Writers. Ed. James Vinson and D. L. Kirkpatrick. New York: St. Martin's,1979. 107–109.
Bemelmens, Ludwig. Dirty Eddie. New York: Viking Press, 1947.
Ellis, Bret Easton. Less than Zero. New York: Simon & Schuster, 1985. Halliwell, L eslie. The Filmgoer's Companion. 4th ed. New York: Avon, 1975.
Wasserman, Wendy. "The Brand Name Guide to Life." The New York Times Book Review 20 March 1988:13.