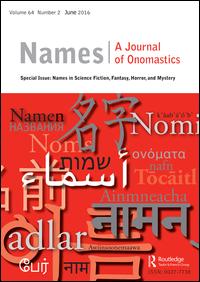 Published 1993-03-01
Copyright (c) 1993 Maney
This work is licensed under a Creative Commons Attribution 4.0 International License.
References
Kahane, H. & R. Italienische Ortsnamen in Griechenland. Texte und Forschungen zur Byzantinisch-neugriechischen Philologie 36. Athens, 1940.
Kahane, H. & R. "Toponyms as Anemonyms." Names 5(1957): 241–145.
Kahane, H. & R. "Notes in the Linguistic History of SclavusStudi in onore di Ettore LoGatto e Giovanni Maver. Florence. 1962, 345–360.
Kahane, H. & R. The Krater and the Grail: Hermetic Sources of the Parzival. Illinois studies in Language and Literature, LVI. Urbana, 1965. (With Angelina Pietrangeli).
Kahane, H. & R. "From Landmark to Toponym". Sprache und Gesellschaft (Harri Meier Testimonial) Munich (253–258).
Kahane, H. & R. Graeca et Romanica: Scripta selecta I, II, III. Amsterdam, 1979, 1981, 1986.
Kahane, H. & R. "Desdemona: A Star-crossed Name," Names 35 (1987), 232–235.
Kahane, H. & R. Foreign Placenames. Handbuch der Namenkunde; Name Studies, ed. L. Zgusta, et al. Berlin and New York (forthcoming).