Research Article
Gallic Joys of Joyce: On Translating Some Names in Finnegans Wake into French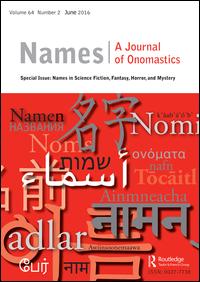 Published 1996-06-01
Copyright (c) 1996 Maney
This work is licensed under a Creative Commons Attribution 4.0 International License.
Abstract
Abstract
We attempt to gauge the ways in which a translator of Finnegans Wake has dealt with the problem of conveying some proper names into French. The raw data are those of Chapter 1, together with their cross-references in other parts of the work. Some key sentences point to two homonymous and adjoining US counties, in Missouri and Illinois, separated by the Mississippi river, all of which James Joyce seems to have zoologically metaphorized as symbols of Earwicker and Anna Livia Plurabelle. Although not noticed by Joycean critics, this was apparently detected by the French translator, who conveyed it in cryptic fashion. We, in turn, by decrypting the translator, believe that he was put on the track of Joyce's imagery, a notion which appears valid even if mere serendipity on the part of the translator, or the author, were at work instead of intuition. Thus, it appears that onomastics can yield a great deal of thematic information about Finnegans Wake through translation.
References
Begnal, Michael, H., and Fritz Senn, Eds. 1974. A Conceptual Guide to Finnegans Wake. University Park and London: Pennsylvania State UP.
Bishop, John. 1986. Joyce's Book of the Dark, Finnegans Wake. Madison: U of Wisconsin P.
Carse, Duncan. 1959. "The Survey of South Georgia, 1951-7." The Geographical Journal 125: 20–37.
Danmark 1:100000 Topografisk Atlas 3. Udgave. 1989. Copenhagen: Kort- og Matrykelstyrelsen.
De Bhaldraithe, Tomas. English-Irish Dictionary. 1992. Dublin: An Gum.
Falkland Islands and Dependencies, Report for the Years 1960 and 1961. 1962. London: Colonial Office, Her Majesty's Stationary Office.
Foote, Peter G., and David M. Wilson. 1970. The Viking Achievement, A Survey of the Society and Culture of Early Medieval Scandinavia. New York and Washington: Praeger.
Green, Jonathon. 1984. The Dictionary of Contemporary Slang. London and Sydney: Pan.
Hart, Clive. 1974. A Concordance to Finnegans Wake. Mamaroneck, N. J: Paul P. Appel.
Joyce, James. 1925. Ulysses. Paris: Shakespeare and Company.
Joyce, James. 1982. Finnegans Wake. Translated into French by Philippe Lavergne. Paris: Gallimard.
Joyce, James. 1984. Finnegans Wake. New York: Penguin.
Klindt-Jensen, Ole. 1970. The World of Vikings. London: Allen & Unwin.
L'Herne, James Joyce. 1985. Paris: Editions de l'Herne.
Magnussen, Johs., and Otto Madsen and Hermann Vinterberg. 1944. Dansk-Engelsk Ordbog. Copenhagen: Gyldendalske Boghandel-Nor- disk Forlag.
McHugh, Roland. 1980. Annotations to Finnegans Wake. London and Henley: Routledge & Kegan Paul.
Mink, Louis O. 1978. A Finnegans Wake Gazetteer. Bloomington and London: Indiana UP.
Ó'Dónaill, Niall. 1981. Gearrfhoclóir Gaeilge-Béarla. Dublin: An Roinn Oideachais.
Rand-McNally Atlas of the United States. 1983. Chicago, New York, San Francisco.
Rose, Danis and John O'Hanlon. 1982. Understanding Finnegans Wake, A Guide to the Narrative of James Joyce's Masterpiece. New York and London: Garland.
Russian Primary Chronicle, Laurentian Text. 1953. Cambridge: Mediaeval Academy of America.
Tindall, William York. 1971. A Reader's Guide to James Joyce. New York: Octagon.
Tindall, William York. 1972. The Joyce Country. New York: Schocken.
Valfells, Sigrid and James E. Cathey. 1981. Old Icelandic, An Introductory Course. New York: Oxford UP.
Wasserzieher, Ernst. 1952. Woher? Ableitendes Wörterbuch der deutschen Sprache. Bonn: Ferd. Dümmlers Verlag.
Webster's New World Dictionary of the American Language, Concise Edition. 1960. Cleveland and New York: World Publishing.
Wessely's Dictionary of the Swedish and English Languages, n.d. Philadelphia: David McKay.