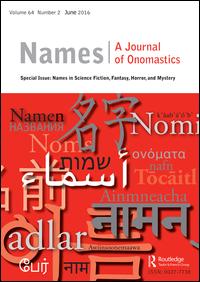 Published 1998-12-01
Copyright (c) 1998 Maney
This work is licensed under a Creative Commons Attribution 4.0 International License.
References
Genealogija. The Lithuanian-American Immigration History and Genealogy Publication. Chicago: Balzekas Museum of Lithuanian Culture Library. (Periodical; "Lithuanian Personal Names" published in 1992.)
Hollowak & Hoffman (1991) = Thomas L. Hollowak & William F. Hoffman, Index to the Obituaries and Death Notices Appearing in the "Dziennik Chicagoski" [Chicago Daily], 1920–1929, vols. I-II. Chicago: Polish Genealogical Society, 1991.
Jones (1990) = George F. Jones, German-American Names. Baltimore: Genealogical Publishing Co., 1990.
Orteil (1996) = Gerald A. Orteil, Polish Parish Records of the Roman Catholic Church. Chicago: Polish Genealogical Society, 1996.
Rymut NP (1991) = Kazimierz Rymut, Nazwiska Polakôw [The Surnames of Poles]. Wroclaw: Wydawnictwo Zakladu narodowego im. Ossolinskich, 1991.
Rymut SN (1992) = Kazimierz Rymut, Slownik nazwisk wspôlczesnie w Polsce uzywanych [Directory of Surnames in Current use in Poland]. Vols. I-X. Krakow: Instytut jçzyka polskiego, 1992.
Sanford (1907) = Albert Hart Sanford, Polish People of Portage County. Proceedings of the Wisconsin Historical Society 1907. Reprinted by the Polish Genealogical Society, 1989.
Taszycki 1965–1967 = Witold Taszycki, Slownik staropolskich nazw osobowych [Dictionary of Old Polish Personal Names]. Wroclaw: Ossolineum,1965–1967.
Eshel, Esther. 1994. "4Q477: The Rebukes by the Overseer." Journal of Jewish Studies 45: 111–122.
Read, A. W. 1990. "Gossamer Threads: A Figure of Speech for Place- Name Duplication in the United States. " Jean-Claude Boulanger, ed. Proceedings of the XVIth International Congress of Onomastic Sciences. Québec: Presses de l'Université Laval,489–496.
Hall, Richard N. 1966. "Recent Progress in International Standardization of Geographical Names." Proceedings of the Eighth International Congress of Onomastic Sciences. Dirk Peter Blok, ed. The Hague: Mouton, 224–29.