Research Article
Cannibalizing the Donner Name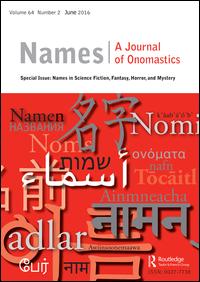 Published 1999-03-01
Copyright (c) 1999 Maney
This work is licensed under a Creative Commons Attribution 4.0 International License.
Abstract
Abstract
For nineteenth-century American audiences, the name of the Donner Party evoked grisly images of cannibalism on the western frontier. Those same audiences eagerly consumed every artifact to which the party's name could be attached and, in turn, renamed the scene of the 1846-47 winter encampment in its honor. The transformation of the Donner label is traced from individual name to toponymic feature and article of exchange on the open market, with particular attention to the ways in which the party's common identity as "Donners" overwrote the histories of individual party members.
References
Breen, Patrick. 1979. Diary of Patrick Breen Ed. Frederick J. Teggart. Reno: Outbooks.
Bryant, Edwin. 1848. What I Saw in California. New York: Appleton.
Derrida, Jacques. 1995. On the Name. Ed. T. Dutoit. Trans. D. Wood, J.P. Leavey, Jr., and I. McLeod. Stanford: Stanford UP.
DeVoto, Bernard. 1960. The Year of Decision: 1846. Boston: Houghton Mifflin.
Dohner, H[arry] H. [c. 1950]. The Dohners of America: History and Genealogical Record by H. H. Dohneri1900–1950. Vol. 1. N.p.: n.p.
Dohner, Stephen J. 1988. Personal interview. 25 October.
Disney Studios. 1994, March 6. One More Mountain. American Broadcasting Corporation.
Farnham, Eliza. 1850. California In Doors and Out. New York: Dix.
Grayson, Donald K. 1990. "Donner Party Deaths: A Demographic Assessment." Journal of Anthropological Research 46: 223–42.
Gudde, Erwin G. 1949. California Place Names: A Geographical Dictionary. Berkeley: U of California P.
Gudde, Erwin G. 1998. California Place Names: The Origin and Etymology of Current Geographical Names. Revised and enlarged by William Bright. Berkeley: U of California P.
Hall, Carroll D., ed. 1947. A Donner Miscellany: 41 Diaries and Documents. San Francisco: Book Club of California.
Houghton, Eliza P. Donner. 1879. May 20. Letter to Benjamin W. Wilder. Ms. HOU 49. The Huntington Library, San Marino, California.
Houghton, Eliza P. Donner. 1884. "Notes to 'My Children.'" Ms. #1738. The Huntington Library, San Marino, California.
Kaplan, Justin, and Anne Bernays. 1997. The Language of Names. New York: Simon and Schuster.
McCurdy, Stephen A. 1994. "Epidemiology of Disaster: The Donner Party (1846–1847)." Western Journal of Medicine 160: 338–42.
McGlashan, Charles F. 1947. History of the Donner Party: A Tragedy of the Sierras. Stanford: Stanford UP.
Moraru, Christian. 1997. Rev. of On the Name, by Jacques Derrida. Names 45: 67–72.
Murphy, Virginia Reed. 1986, September. "A Girl with the Donner Party." American History Illustrated 21: 18–27.
Nash, Jay Robert. 1992. Encyclopedia of Western Lawmen and Outlaws. New York: Paragon.
Scarry, Elaine. 1985. The Body in Pain: The Making and Unmaking of the World. New York: Oxford UP.
Stewart, George R. 1958. Names on the Land: A Historical Account of Place-naming in the United States. Boston: Houghton.
Stewart, George R. 1962. Donner Pass and Those Who Crossed It. San Francisco: California Historical Society.
Stewart, George R. 1983. Ordeal by Hunger: The Story of the Donner Party. Boston: Houghton Mifflin.
Thornton, Jesse Quinn. 1849. Oregon and California in 1848. Vol. 2. New York: Harper.
Truckee Republican. 1879, May 7.
Wolle, Muriel Sibell. 1974. Stampede to Timberline: The Ghost Towns and Mining Camps of Colorado. Athens: Ohio UP.