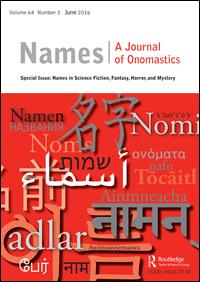 Published 2008-06-01
Copyright (c) 2008 Maney Publishing
This work is licensed under a Creative Commons Attribution 4.0 International License.
Abstract
Abstract
After surveying some of the origins for American placenames associated with the Devil, we determined the prevalence of those placenames including their cognates, e.g., Satan or equivalents in other languages, e.g. Diablo, and related terms such as Hell and its synonyms, e.g. Hades, compared to placenames with angel or Heaven and their equivalents, e.g., archangel, Cielo. We found a much higher prevalence of Devil and Hell placenames attached to natural sites such as mountains and lakes compared to inhabited sites such as cities and schools which were more likely to contain the terms angel or Heaven in their placenames. We also found a considerably higher percentage of Devil and Hell placenames in the western and southern states than in the northeastern and Midwestern states.
References
Abel, Ernest L., and Kruger, Michael L., 2007. 'Symbolic Significance of Initials on Longevity,' Perceptual and Motor Skills, 104, 179–82.
Anon., 1864. 'The Devil's Canon in California,' The Continental Monthly: Devoted to Literature and National Policy, September, p. 280.
Anon., 1874. 'Au Sable Chasm. "The Gate of the Adirondacks,"' Scribner's Monthly, 8 (2): 194.
Anon., 1886. 'The Geyser Springs of California,' Harper's Bazaar, 2 October, p. 647.
Associated Press, 2005. 'Religious Man Wants to Rename Mt Diablo,' [accessed 23 November 2006].
Associated Press, 2006. 'Hell, Mich., Heats Up For 6/6/06 party,' [accessed 12 March 2007].
Bishop, George, 1999. 'What Americans Really Believe,' Free Inquiry (Summer), pp. 38–42.
Brun, Stanley D., and Wheeler, James O., 1966. 'Notes on the Geography of Religious Town Names in the U.S.,' Names, 14, 197–202.
Clement, 1879. New York Evangelist, 9 October, p. 2.
Cutlip, Ralph V., 1975. 'The Devil's Tea Table,' State Magazine, Charleston W.V., 30 November, p. 27.
Federal Writers Project, 1937. Massachusetts: A Guide To Its Places and People, Boston: Houghton Mifflin Co.
Gallup, George Jr., 1995. 'Religion in America: Will the Vitality of Churches be the Surprise of the Next Century?' The Public Perspective, 6, 1–8.
Goff, John Hedges, 1975. Placenames of Georgia, Athens: University of Georgia Press.
Gunderson, M. A., 1988. Devils Tower — Stories in Stone, Glendo, Wyoming: High Plains Press.
Kadmon, Naftali, 2000. Toponymy: The Lore, Laws and Language of Geographical Names, New York: Vantage Press.
Kelly, Michael H., 2000. 'Naming on the Bright Side of Life,' Names, 49, 3–26.
Lossing, Benson J., 1866. The Hudson From The Wilderness to the Sea, New York: Virtue & Yorston.
Lovejoy, David S., 1994. 'Satanizing the American Indian,' New England Quarterly, 67: 603–21.
M. C. H., 1904. 'The Rambler in the Yellowstone,' Congregationalist and Christian World, 20 August, p. 256.
Menken, H. L., 1944. 'American Profanity,' American Speech, 19: 243–49.
Minnesota Historical Society, 2007. 'Minnesota Placenames: Devil Track River,' <http://mnplaces.mnhs.org/index.cfm> [accessed 22 December 2007].
Moore, Captain B. D., 1862. 'Scenes Beyond the Western Border,' The Southern Literary Messenger; Devoted to Every Department of Literature, August, p. 505.
Ortiz, Beverly, 1989. 'Mount Diablo as Myth and Reality. An Indian History Convoluted,' American Indian Quarterly, 13: 457–20.
Philips, David E., 2001. Legendary Connecticut, Willimantic, CT: Curbstone Press.
Rennick, Robert M., 2005. 'How to Study Placenames,' Names, 53: 291–308.
Ruffner, H., 1839. 'Notes of a Tour from Virginia to Tennessee, in the Months of July and August,' Southern Literary Messenger, January, pp. 44–46.
Schrauf, Robert W., and Sanchez, Julia, 2004. 'The Preponderance of Negative Emotion Words in the Emotion Lexicon: A Cross-generational and Cross-linguistic Study,' Journal of Multilingual and Multicultural Development, 25: 266–84.
Stewart, George R., 1970. American Place-Names: A Concise and Selective Dictionary for the Continental United States of America, New York: Oxford University Press.
Talmadge, Dr, 1889. 'From Ocean to Ocean, or My Transcontinental Journey,' The Atlanta Constitution, 23 September, p. 3.
Vorderbrueggen, Lisa, 2006. 'Name Change for Mount Diablo Contra Denied,' [accessed 25 November 2006].
Vorderbrueggen, Lisa, 2006a. 'David vs. Goliath,' <http://www.cctextra.com/blogs/politicsblog/david_vs_goliath_news/> [accessed 4 March 2007].
Wilson, Lydia A., 1897. 'The California Geysers,' Friends' Intelligencer, 30 January, p. 75.
Wood, J. W. B., 1837. Christian Advocate and Journal, 14 April p. 133.
Zelinsky, Wilbur, 1973. The Cultural Geography of the United States, Englewood Cliffs, NJ: Prentice Hall.