Research Article
The American Blade: Etymologies of a Newspaper Name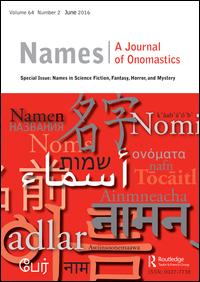 Published 2013-09-01
Keywords
Copyright (c) 2013 American Name Society 2013
This work is licensed under a Creative Commons Attribution 4.0 International License.
Abstract
Abstract
Some American newspaper names include the element Blade, as in The Toledo Blade or The Washington Blade. One might assume that all newspaper Blades are the same, but they are, in fact, etymologically distinct, used by namers of their respective newspapers for different reasons. The residues of those etymologies figure in regional and subcultural identities, and Blade reflects various aspects of American history and culture depending on the circumstances of its use. At the finest historical scale, Blade may be a 'lexical doppelgänger,' used in mixed communities by immigrant populations for one etymological reason, but by the established Anglo-American strata for another. While purposeful, metaphorical uses of Blade make flamboyant iconic claims about regional or subcultural identity, doppelgänger Blade is forged in the crucible or melting pot of language contact and essentially overlooked in the history of American speech.
References
Adams, Michael. 2000. 'Lexical Doppelgängers.' Journal of English Linguistics 28(3): 295–310.
Aitchison, Jean. 2007. The Word Weavers: Newshounds and Wordsmiths. Cambridge: Cambridge University Press.
Crane, R. S., and F. B. Kaye. 1927. 'A Census of British Newspapers and Periodicals, 1620–1800.' Studies in Philology 24(1): 1–205.
Dictionary of American Regional English. 1985–2013. 6 vols. Ed. F. G. Cassidy, Joan Houston Hall, and others. Cambridge: The Belknap Press.
Edwards, John. 2009. Language and Identity. Cambridge: Cambridge University Press.
Green, Jonathon, ed. 2010. Green's Dictionary of Slang. 3 vols. London: Chambers.
Harrison, John M. 1985. The Blade of Toledo: The First 150 Years. Toledo, OH: Toledo Blade Company.
Haugen, Einar. 1969. The Norwegian Language in America. Bloomington, IN: Indiana University Press.
Haugen, Einar. 1972. 'Language and Immigration.' In The Ecology of Language, selected and introduced by Anwar S. Dil. Stanford, CA: Stanford University Press, 1–36.
History of Lafayette County, Wisconsin. 1881. Chicago: Western Historical Company.
Karstadt, Angela. 2003. Tracking Swedish-American English: A Longitudinal Study of Linguistic Variation and Identity. Acta Universitatis Upsaliensis, Studia multiethnica Upsaliensia 16. Uppsala: AAU.
Kripke, Saul. 1972. 'Naming and Necessity.' In Semantics of Natural Language, ed. Donald Davidson and Gilbert Harman. Dordrecht: D. Reidel, 253–355.
Mencken, H. L. 1936. The American Language. 4th edn. New York: Knopf.
Nelson, Helge. 1943. The Swedes and the Swedish Settlements in North America. 2 vols. Acta Regiae Societatis humaniorum litterarum Lundensis 37. Lund: Gleerup.
Oehlerts, Donald E. 1958. Guide to Wisconsin Newspapers 1833–1957. Madison, WI: Wisconsin Historical Society.
Oxford English Dictionary. 3rd, online edn. Ed. John Simpson, E. S. C. Weiner, and others. Oxford: Oxford University Press.
Saeed, John I. 2003. Semantics. 2nd edn. Malden, MA: Blackwell.
Smith, Joel Sumner, and Arthur Head. 1916. A List of Newspapers in the Yale University Library. Yale Historical Studies Miscellany 2. New Haven: Yale University Press.