Research Article
Naming Clues to the Layers of Transgression in El crimen del Padre Amaro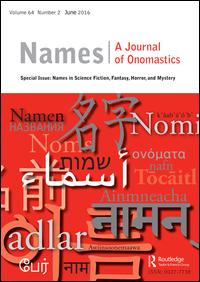 Published 2014-06-01
Keywords
Copyright (c) 2014 Maney Publishing
This work is licensed under a Creative Commons Attribution 4.0 International License.
Abstract
Abstract
Mexican director, Carlos Carrera, employs names in El crimen del Padre Amaro (2002) to illuminate the complex internal struggles of key characters as well as the power struggles between them. Names in the film also expose contemporary moral and religious dilemmas in Mexican society. The film is based on a nineteenth-century Portuguese novel of the same name. This investigation discusses the way in which nomenclature in the modern cinematic work reveals clues about individual transgressions as well as larger societal and institutional corruption that determine the fate of the characters and the parish where the story takes place.
References
Alvarez-Altman Grace. 1987. "A Methodology for Literary Onomastics: An Analytical Guide for Studying Names in Literature." Names in Literature: Essays from Literary Onomastics Studies. Ed. Alvarez-Altman Grace and Burelbach Frederick M. Lanham: University Press of America, 1–9.
Barnhart, Clarence Lewis. 1954. The New Century Cyclopedia of Names. Vol. 1. New York: Appleton-Century-Crofts.
El crimen del Padre Amaro. Directed by Carlos Carrera. 2002. Culver City, CA. Columbia TriStar Home Entertainment, 2003. DVD.
"El crimen del Padre Amaro." Internet Movie Database. <http://www.imdb.com/title/tt0313196/?ref_=fn_al_tt_2> [Accessed June 10 2013].
Freeland, Alan. 1980. "Degrees of Determinism: The Three Versions of O Crime do Padre Amaro." Bulletin of Hispanic Studies 57: 321–337.
García Orso, Luis. 2003. "El crimen del Padre Amaro." Xipe Totek 45: 97–105.
Hanks, Patricia and Hodges Flavia. 1988. A Dictionary of Surnames. New York: Oxford University Press.
Hanks, Patrick, Hardcastle Kate, and Hodges Flavia. 2006. A Dictionary of First Names. Oxford: Oxford University Press. <http://www.oxfordreference.com/views/BOOK%5FSEARCH.html?book=t41>.
Rodríguez, René. 2002. "Sins of the Flesh, Relevancy of the Story Make The Crime of Padre Amaro Timely." Hispanic 15: 62.
"St. Joanna." Catholic Online. <http://www.catholic.org/saints/saint.php?saint_id=294> [Accessed October 10 2013].
Sotelo, Susan Baker. 2009. "Father Amaro's Crime: From the Portuguese Novel to the Mexican Film." Studies in Honor of Lanin A. Gyurko. Ed. Hall Ken and Muñoz-Hjelm Ruth. Newark, DE: Juan de la Cuesta, 247–261.