Book Review
Mapping Shakespeare's World: By Peter Whitfield. Oxford: Bodleian Library, University of Oxford Press. 2015. Pp. 204. $45.00. ISBN 978-1-85124-257-2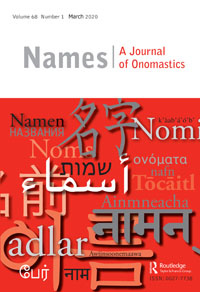 Published 2020-01-02
Copyright (c) 2020 American Name Society
This work is licensed under a Creative Commons Attribution 4.0 International License.
References
Boswell, James.
The Life of Samuel Johnson, LL.D. ed.
G. B. Hill.
Revised and enlarged by
L. F. Powell
, vol. 3, 1934–50. 2nd ed. Oxford: Clarendon.
Johnson, Samuel.
Selections from Johnson on Shakespeare. Edited by
Bertrand H. Bronson
with
Jean M. O'Meara.
New Haven, CT: Yale University Press.
Shakespeare, William.
The Complete Works of Shakespeare. Edited by
David Bevington
, 6th ed. New York: Pearson Longman.