Research Article
Attitudes Toward Women's Marital Name Choices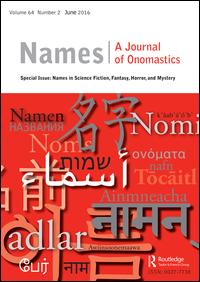 Published 1998-06-01
Copyright (c) 1998 Maney
This work is licensed under a Creative Commons Attribution 4.0 International License.
Abstract
Abstract
Attitudes of more than 900 adult respondents toward women's choosing to retain their birth name as their last name when they marry are reported. The majority of respondents were tolerant ofa woman's keeping her birth name, but were not tolerant if the couple planned to have children. Women were far more accepting of a wife's retaining her birth name than were men. Also more tolerant were persons with higher levels of education, higher incomes, lived in larger communities, had more liberal political leanings, were less religious and younger.
References
Atkinson, D. 1987. "Names and Titles: Maiden Name Retention and Use of Ms." Women and Language 10: 37.
Brightman, J. 1994. "Why Wives Use Their Husband's Names." American Demographics 16: 9–10.
Cherlin, A. 1978. "Hereditary Hyphens?" Psychology Today 12: 150.
Collier, S., T. Skidmore, and H. Blakemore, eds. 1992. The Cambridge Encyclopedia of Latin America and the Caribbean. Cambridge U P.
Duggan, D., A. Cota, and K. Dion. 1993. "Taking Thy Husband's Name: What Might It Mean?" Names 41: 87–102.
Embleton, S., and R. King. 1984. "Attitudes Towards Maiden Name Retention." Onomastica Canadiana 66: 11–22.
Fullerton, J., and T. Lemons. 1992. "First lady Hillary Clinton not content with playing second fiddle." (Little Rock) Arkansas Democrat-Gazette 16 Feb.: D2 + .
Glendon, M. A. 1989. The Transformation of Family Law: State, Lawiand Family in the United States & Western Europe. Chicago: U of Chicago P.
Johnson, D. R., and L. Scheuble. 1995. "Women's Marital Naming in Two Generations: A National Study." Journal of Marriage and the Family 57: 724–732.
Johnson, D. R., and L. Scheuble. 1996. "Women's Marital Name Choice: Determinants and Effects." American Sociological Association Meetings, New York, 19 Aug.
Morgan, M. 1987. "The Impact of Religion on Gender-Role Attitudes." Psychology of Women Quarterly 11: 301–309.
NOW Legal Defense and Education Fund, and R. Cherow-O'Leary. 1987. The State-By-State Guide To Women's Legal Rights. New York: McGraw-Hill.
Osgood, D. W. 1994. Designs, Procedures, Instruments and Forms for the 1994 NASIS. University of Nebraska, Lincoln: Bureau of Sociological Research.
Pearson, J. 1985. Gender and Communication. Dubuque IA: Wm. C. Brown.
Perry, J. M., and J. H. Birnbaum. 1993. "Hillary Clinton Turns the First Lady Role into a Powerful Post. " The Wall Street Journal 74: (Jan. 28): A1 + .
Scheuble, L., and D. R. Johnson. 1993. "Marital Name Change: Plans and Attitudes of College Students." Journal of Marriage and the Family 55: 747–754.
Stannard, U. 1984. "Manners Make Laws: Married Women's Names in the United States." Names 32: 114–128.
Trost, J. 1991. "What's in a Surname." Family Reports 19: 1–20.
Walker, R. 1996. "Germany Bans Double Names for Families." Christian Science Monitor 10: (Oct.) 1-K
Wilson, T. 1991. "Urbanism, Migration, and Tolerance: A Reassessment." American Sociological Review 56: 117–123.