Research Article
Onomastics as an Interdisciplinary Study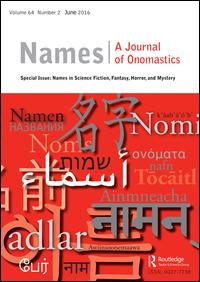 Published 2000-12-01
Copyright (c) 2000 Maney
This work is licensed under a Creative Commons Attribution 4.0 International License.
Abstract
Abstract
Onomastics, although an autonomous discipline, overlaps the subject matter of many other disciplines since name use is central to human activity. In its subfield of terminologies or nomenclatures; moreover, onomastics relates to every discipline, subject field, and activity that human beings pursue: We are a species that categorizes and labels. To illustrate this point, we consider briefly the interconnections of onomastics with a number of other disciplines and then look more particularly at the role of placename study as a cross-disciplinary activity.
References
Algeo, John. 1973. On Defining the Proper Name. Gainesville: U of Florida P.
Bastian, Robert W. 1977. "Generic Place-Names and the Northern- Midland Dialect Boundary in the Midwest." Names 25:228–36.
Dunkling, Leslie Alan. 1977. First Names First. New York: Universe.
Fellows-Jensen, Gillian. 1990. "Place-Names as a Reflection of Cultural Interaction." Anglo-Saxon England 19:13–21.
Hanks, Patrick, and Flavia Hodges. 1988. A Dictionary of Surnames. Oxford: Oxford UP.
Kaups, Matti. 1966. "Finnish Place Names in Minnesota: A Study in Cultural Transfer." Geographical Review 56:377–97.
Kelley, Michael H. 1999. "Regional Naming Patterns and the Culture of Honor." Names 47:3–20.
Leighly, John. 1978. "Town Names of Colonial New England in the West." Annals of the Association of American Geographers 68:23348.
Lind, Ivan. 1962. "Geography and Place Names." Wagner and Mike- sell, 118–28.
Moore, Marianne. 1957. "Department of Amplification: Correspondence between Marianne Moore and Ford Motor Company on Names for New Models." New Yorker 33 (April 13): 140–6.
Pred, Allan. 1984. "Place as Historically Contingent Process: Structuration and the Time-Geography of Becoming Places." Annals of the Association of American Geographers 74:279–97.
Pyles, Thomas. 1959. "Bible Belt Onomastics; or, Some Curiosities of Antipedobaptist Nomenclature." Names 7:84–100.
Rayburn, Alan. 1993. "When Names Become Politically Incorrect." Canadian Geographic 113:92–3.
Rich, John Stanley. 1981. "Landscapes and the Imagination: The Interplay of Folk Etymology and Place Names." Southern Folklore Quarterly 45:155–62.
Stewart, George R. 1970. American Place-Names: A Concise and Selective Dictionary for the Continental United States of America. New York: Oxford U P.
Wagner, Philip L., and Marvin W. Mikesell, eds. 1962. Readings in Cultural Geography. Chicago: U of Chicago P.
Wright, John Kirtland. 1929. "The Study of Place Names: Recent Work and Some Possibilities." Geographical Review 19:140–44.
Zelinsky, Wilbur. 1962. "Generic Terms in the Place Names of the Northeastern United States." Wagner and Mikesell, 129–56.
Zelinsky, Wilbur. 1967. "Classical Town Names in the United States: The Historical Geography of an American Idea. " Geographical Review 57:463–95.