Research Article
Naming a New Self: Identity Elasticity and Self-Definition in Voluntary Name Changes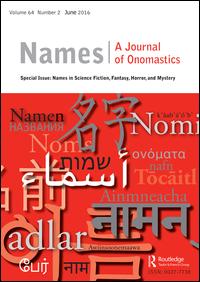 Published 2012-09-01
Keywords
surnames

,

Canadian French

,

anglicization

,

translation

,

processes
Copyright (c) 2012 American Name Society 2012
This work is licensed under a Creative Commons Attribution 4.0 International License.
Abstract
Abstract
This article considers how personal name changes are situated within their sociological context in the United States. Reviewing both popular and scholarly texts on names and name changes, I draw on recent work on identity and narrative by Oriana to argue that voluntary personal name changes are made in relation to a sense of narrative elasticity or identity elasticity, and act symbolically to make a shifting identity or self-narrative manifest in the social context. Drawing out these themes through an exploration of name changes for ethnic self-definition or religious purposes, I conclude with a reflection on the unstable social balance between an individual's interest in self-expression and society's priority on the stable identification of persons within a given social sphere.
References
Ali-Bey Omar. 1991. Coalition for a better life to sponsor name changing ceremony. Call & Post. June 13, sec. A.
Anyike JamesC. 1990. Reason for my Name Change. Chicago Defender, April 2, 12.
Ashley LeonardRN. 1971. Changing Times and Changing Names: Reasons, Regulations, and Rights. Names 19: 167–187.
Ashley LeonardRN. 1996. What's in a Name?… Everything You Wanted to Know. Baltimore, MD: Genealogical Publishing.
Bering Dietz. 1992. The Stigma of Names: Antisemitism in German Daily Life, 1812–1933. Trans. Neville Plaice. Ann Arbor, MI: University of Michigan Press.
Bernasconi Oriana. 2011. Negotiating Personal Experience Over the Lifetime: Narrative Elasticity as an Analytic Tool. Symbolic Interaction 34(1): 20–37.
Blumer Herbert. 1969. Symbolic Interactionism: Perspective and Method. Englewood Cliffs, NJ: Prentice-Hall.
Brown Rusty. 1983. What's in a name? A lot. Evening Observer. April 7, 6.
Davidson Linda Kay, David MGitlitz. 2002. Pilgrimage: From the Ganges to Graceland: An Encyclopedia. Santa Barbara, CA: ABC-CLIO, Inc.
Dumas Gerald. 1999. Don't Call Me Gerald. Smithsonian 30(2): May, 144.
Economist. 1960. What's in a name? February 13(194): 602–603.
Gutman HerbertG. 1977. The Black Family in Slavery and Freedom, 1750–1925. New York: Vintage Books.
Jennings Gary. 1967. Personalities of Language. London: Victor Gollancz Ltd.
Kaplan Justin, Anne Bernays. 1997. The Language of Names. New York: Simon.
Kissling Elizabeth Arveda and Victoria Leto DeFrancisco. 1993. Naming Our Selves. Women and Language 16(2): Fall 1993.
Lewis JamesR. 1999. Witchcraft Today: An Encyclopedia of Wiccan and Neopagan Traditions. Santa Barbara, CA: ABC-CLIO, Inc.
Nuessel Frank. 1992. The Study of Names: A Guide to the Principles and Topics. Westport, CT: Greenwood Press.
Plato. 1977. Plato in Twelve Volumes. Trans. H. N. Fowler. The Loeb Classical Library. Vol. 4. Cambridge, MA: Harvard University Press.
Plutschow Herbert. 1995. Japan's Name Culture: The Significance of Names in a Religious, Political, and Social Context. Kent, England: Japan Library.
Robbins Joel. 2007. Continuity Thinking and the Problem of Christian Culture: Belief, Time, and the Anthropology of Christianity. Current Anthropology 48: 5–38.
Rodriguez Junius P, ed, ed. 1997. The Historical Encyclopedia of World Slavery. Santa Barbara, CA: ABC-CLIO, Inc.
Ruane JanetM, Karen ACerulo. 2000. Second Thoughts: Seeing Conventional Wisdom Through the Sociological Eye. Thousand Oaks, CA: Pine Forge Press.
Stahl Paul H, ed, ed. 1998. Name and Social Structure: Examples from Southeast Europe. Boulder: East European Monographs.
Tournier Paul. 1975. The Naming of Persons. New York: Harper.
US News and World Report. 1980. Zero for 1069. June 2, 8.
van Gennep Arnold. 1960. The Rites of Passage. London: Routledge.