Article
A Note on Women's Courtesy Titles in Chinese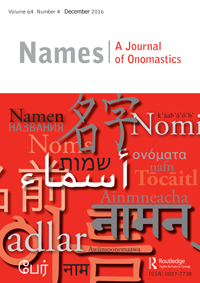 Published 2016-10-01
Copyright (c) 2016 American Name Society
This work is licensed under a Creative Commons Attribution 4.0 International License.
Abstract
This study examines the use of women's courtesy titles in contemporary Taiwanese society. In particular, 245 native Mandarin speakers were asked to complete a survey that was modeled on the one used by Donna Lillian. The results show that age is an influential factor in the selection of courtesy titles for women of different marital status. They also confirm Lillian's observation that a woman's occupational status may outweigh her marital status. The study lends insight into the uses of courtesy titles across cultures and briefly suggests areas worth exploring in future research.
References
Alhassan, Salifu Nantogma. 2010. "Signaling Politeness, Power and Solidarity through Terms of Address in Dagbanli." Nordic Journal of African Studies 19(4): 274–292.
Brown, Roger, and Albert Gilman. 1960. "The Pronouns of Power and Solidarity." In Style in Language. Ed. T. A. Sebeok, 253–276. Cambridge, MA: MIT Press.
Dion, Kenneth, and Albert A. Cota. 1991. "The Ms Stereotype: Its Domain and the Role of Explicitness in Title Preference." Psychology of Women Quarterly 15(3): 403–410.
Feather, Norman T., Mary P. O'Driscoll, and Tricia Nagel. 1979. "Conservatism, Sex-Typing, and the Use of Titles: Miss, Mrs, or Ms?" European Journal of Social Psychology 9(4): 419–426.
Fuller, Janet M. 2005. "The Uses and Meanings of the Female Title Ms." American Speech 80(2): 180–206.
Gerber, Abraham. 2015. "Ko Says Unmarried Men, Women Equally a Danger to Security." Taipei Times, February 17.
Lillian, Donna L. 2008. "Ethnicity and Women's Courtesy Titles: A Preliminary Report." Names 56(4): 231–238.
Mogi, Norie. 2002. Japanese Ways of Addressing People. Vol. VIII, Investigationes Linguisticae. Poznań: Adam Mickiewicz University.
Murray, Thomas E. 1997. "Perceptions of Ms-Titled Women: Evidence from the American Midwest." Onomastica Canadiana 79(2): 73–96.
Murray, Thomas E. 2002. "A Further Note on the 'Title + First Name' Form of Address." Names 50(4): 263–273.
Taiwan Ministry of Education (MOE). 2015. Guoyu Ci Dian Suo Ding Ben (Revised Mandarin Dictionary). <http://dict.revised.moe.edu.tw/cgi-bin/cbdic/gsweb.cgi?o=dcbdic&searchid=Z0000005> (Accessed June 28, 2015).
Wright, Saundra K. 2013. "Instructor's Address Forms Influence Course Ratings." Names 61(2): 92–100.
Yokotami, Kenji. 2015. "Japanese Young Adults' Disrespectful Form of Address for Fathers Predict Feelings of Rejection and Depression." Names 63(2): 96–108.