Article
On the Translation of Names in Margaret Mitchell's Gone with the Wind: A Study in Onomastic Acculturation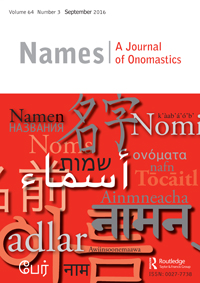 Published 2016-07-02
Copyright (c) 2016 American Name Society
This work is licensed under a Creative Commons Attribution 4.0 International License.
Abstract
This study examines the Chinese translation of personal names in Margaret Mitchell's Gone with the Wind (GWTW). In particular, four name forms are identified in the popular translation by Fu Dong Hua: two-character given names, Sinicized surnames, surname-less references, and fully transliterated personal names. Contrary to the conventional practice of fully transliterating foreign names, translated personal names in GWTW are unique in that they conform to Chinese naming practice, including the adoption of the common FN-GN (family name-given name) pattern and conscious selection of gender-appropriate characters. Examples of onomastically encoded power differential are also noted and discussed.
References
Alford, Richard D. 1988. Naming and Identity: A Cross-Cultural Study of Personal Naming Practices. New Haven, CT: HRAF.
Algeo, John. 1982. "Onomastics in the Fantasies of Le Guin." Names 30(2): 59–67.
Antonopoulou, Eleni. 2004. "Humor Theory and Translator Research: Proper Names in Humorous Discourse." Humor 17(3): 219–255.
Carmean, Karen. 1993. Toni Morrison's World of Fiction. Troy, NY: Whitston.
Duanmu, San. 2007. The Phonology of Standard Chinese. Oxford: Oxford University Press.
Haque, Md Z. 2012. "Translating Literary Prose: Problems and Solutions." International Journal of English Linguistics 2(6): 97–111.
Hoffman, William F. 2008. "Mutilation: The Fate of Eastern European Names in America." Polish Genealogical Society of America, <http://www.pgsa.org/PDFs/Mutilation.pdf> (Accessed April 1, 2015).
Jiu Xin Bai Jia Xin Pai Min 2015 — Pai Han Bang. 2015. Updated Chinese Family Names and Ranking (CFNR). <http://www.baijiaxing.xpcha.com/paiming.html> (Accessed March 24, 2015).
Louie, Emma Woo. 2006. "Remarkable Similarities between Traditional Chinese and Anglo-Saxon England's Naming Customs." Names 54(3): 211–220.
Lyles-Scott, Cynthia. 2008. "A Slave by Any Other Name: Names and Identity in Toni Morrison's Beloved." Names 56(1): 23–28.
MacKethan, Lucinda H. 1986–1987. "Names to Bear Witness: The Theme and Tradition of Naming in Toni Morrison's Song of Solomon." The CEA Critic 49(2–4): 199–207.
Manini, Luca. 1996. "Meaningful Literary Names." In The Translator. Ed. Dirk Delabstita, 161–178. Manchester, NH: St Jerome.
Maylath, Bruce. 1996. "The Trouble with Ibsen's Names." Names 44(1): 41–58.
Mitchell, Margaret M. 1936. Gone with the Wind. New York, NY: Macmillan.
Mitchell, Margaret M. 1991. Piao (Gone with the Wind), Vols 1 & 2. Trans. Fu Dong Hua. Hong Kong: Tien Yuan.
Moore, John. 1995. "Mvskoke Personal Names." Names 43(3): 187–212.
Newmark, Peter. 1981. Approach to Translation. Oxford: Pergamon Press.
Robinson, Christopher L. 2012."The Stuff of Which Names are Made: A Look at the Colorful and Eclectic Namecraft of Lord Dunsany." Names 60(1): 26–35.
Rowling, J. K. 2001. Ha Li Bo Te — Shen Mi De Mo Fa Shi (Harry Potter and the Philosopher's Stone). Trans. Peng Chien Wen. Taipei: Crown.