Book Review
Rhetorics of Names and Naming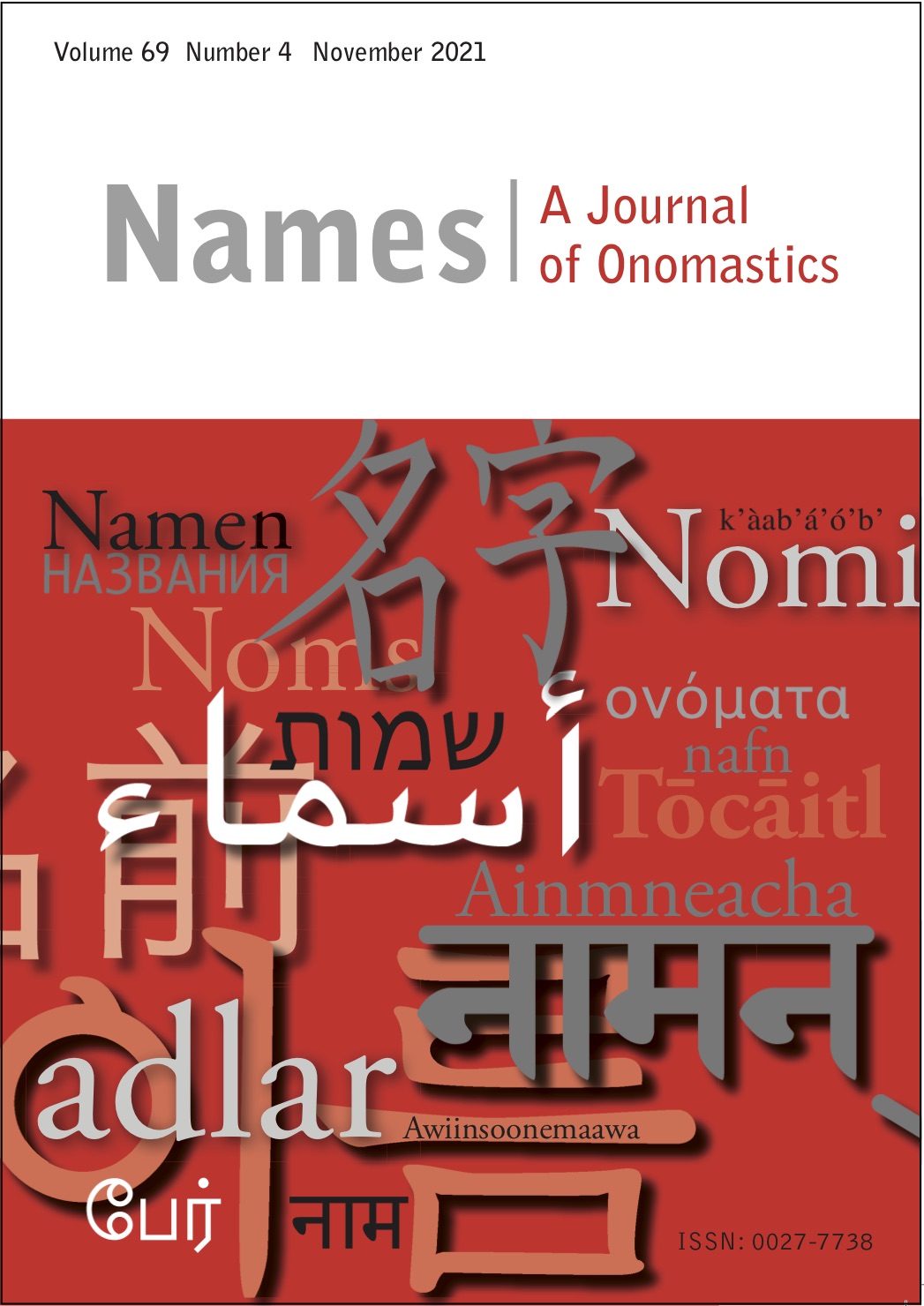 Published 2021-11-15
Keywords
onomastics

,

English Studies

,

rhetorics
Copyright (c) 2021 Maggie Scott
This work is licensed under a Creative Commons Attribution 4.0 International License.
Abstract
Rhetorics of Names and Naming. Edited By Star Medzerian Vanguri. New York & London: Routledge. 2016. Pp. xi + 224. $52.95 (Paperback), ISBN: 9781138599574; $190 (Hardback), ISBN: 9781138910638; $47.65 (E-book), ISBN: 9781315693347.
References
Anderson, John. 2007. The Grammar of Names. Oxford: Oxford University Press.
Berg, Lawrence D. and Jani Vuolteenaho, eds. 2009. Critical Toponymies: The Contested Politics of Place Naming. Burlington, VT and Farnham: Ashgate.
Blackmore, Susan. 2010. "Temes: An Emerging Third Replicator." On the Human: a project of the NationalHumanities Center. Accessed March 7, 2021. https://nationalhumanitiescenter.org/on-the human/2010/08/temes-an-emerging-third-replicator/.
Caiazzo, Luisa, Richard Coates, and Maoz Azaryahu, eds. 2020. Naming, Identity and Tourism. Newcastle: Cambridge Scholars Press.
Caiazzo, Luisa, and I. M. Nick, eds. 2020. Shifting Toponymies: (Re)shaping Places, (Re)shaping Identities.Newcastle: Cambridge Scholars Press.
Casagranda, Mirko, ed. 2018. Names and Naming in the Postcolonial English-Speaking World. Trento: Tangram Edizioni Scientifiche.
Nyambi, Oliver, Tendai Mangena, and Charles Pfukwa, eds. 2016. The Postcolonial Condition of Names and Naming Practices in Southern Africa. Newcastle: Cambridge Scholars Press.
Puzey, Guy, and Laura Kostanski, eds. 2016. Names and Naming: People, Places, Perceptions and Power. Bristol, Buffalo and Toronto: Multilingual Matters.
Rose-Redwood, Reuben, Derek Alderman, and Maoz Azaryahu, eds. 2018. The Political Life of Urban Streetscapes. London and New York: Routledge.