Research Article
The Australianness Of Australian Placenames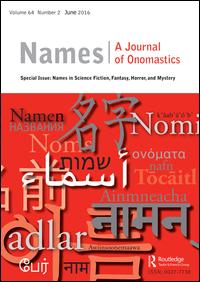 Published 1988-12-01
Copyright (c) 1988 Maney
This work is licensed under a Creative Commons Attribution 4.0 International License.
References
Algeo, John. "Australia as the Land of Oz." American Speech 64 (1989), in press.
Atchison, John. Place Names of Northern New South Wales. Sydney: Australian Broadcasting Commission,1976.
Baker, Sidney J. The Australian Language. 1966; reprint South Melbourne: Macmillan, 1986.
Hornadge, Bill. The Australian Slanguage. 1980; reprint North Ryde, NSW: Methuen, 1987.
Murray-Smith, Stephen. Right Words: A Guide to English Usage in Australia. Ringwood: Viking,1987.
Reed, A. W. Place Names of Australia. 1973; reprint Frenchs Forest, NSW: Reed Books, 1987.
Wannan, Bill. Great Book of Australiana. Adelaide: Rigby,1977.
Wilkes, G. A. Dictionary of Australian Colloquialisms. 1978; reprint Sydney: Fontana, 1987.
Wilkes, G. A. Exploring Australian English. Sydney: Australian Broadcasting Corp.,1986.