Research Article
The Study of Names as Humor in the Thirty–Nine Years of the Journal Names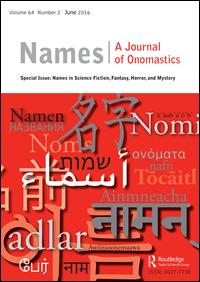 Published 1991-09-01
Copyright (c) 1991 Maney
This work is licensed under a Creative Commons Attribution 4.0 International License.
Abstract
Abstract
Perhaps as a reaction against the popular emphasis on the humorous aspect of name study, the journal Names has devoted relatively little space to the study of names as humor. Those scholarly studies that have appeared in the journal over the nearly four decades of its existence include name puzzles, wordplay in names, humorous personal names (especially in the South), euphemisms for Hell, and humorous folkore about specific names.
References
Algeo, John, and Adele Algeo. "Bible Belt Onomastics Revisited." Names 31.2 (1983): 103–16.
Boulanger, Jean-Claude, ed. Le nom propre au carrefour des études humaines et des sciences sociales: actes du XVIe congrès international des sciences onomastiques, Québec, Université Laval, 16–22 août Sciences: Proceedings of the XVIth International Congress of Onomastic Sciences, Québec, Université Laval, 16–22 August 1987. Québec: Les Presses de l'Université Laval, 1990.
Bryant, Margaret M. "After 25 Years of Onomastic Study." Names 24.1 (1976): 30–55.
Duckert, Audrey. "Notes and Queries." Names 10.2 (1962): 145–47.
Duckert, Audrey. "Place Nicknames." Names 21.3 (1973): 153–60.
Dundes, Alan. "Game of the Name: A Quadriplegic Sick Joke Cycle." Names 33.4 (1985): 289–91.
Hale, Christopher S. "Cow Names in Northwestern Iceland." Names 25.4 (1976): 221–27.
Julyan, Bob. "Cerro Cigarro—A Toponymic Fantasy." Names 36.2 (1988): 94–99.
Lorenz, Brenna. "Origins of Unusual Given Names from the Southern United States." Names 37.3 (1989): 201–30.
Loomis, C. Grant. "The Hell You Did Not Say." Names 9.3 (1961): 163–64.
Loomis, C. Grant. "Some Name Traditions in Epigrammatic Satire." Names 7.1 (1959): 43–48.
Loomis, C. Grant. "Surnames in American Wordplay." Names 4.2 (1956): 86–95
Lu Zhongti, with Celia Millward. "Chinese Given Names Since the Cultural Revolution." Names 37.3 (1989): 265–80.
McGregory, Jerrilyn, "Aareck to Zsaneka: New Trends in African American Onomastics." Boulanger: 389–96.
Mencken, H. L. The American Language. 4th ed. New York: Knopf, 1936.
Metcalf, Allan. "Reason for Reagan." Names 33.4 (1985): 259–67.
Nicolaisen, W. F. H. "Onomastic Onomastics." Boulanger: 3–14.
Nilsen, Don L. F. "American Proper Noun Reference: The Humorous Naming of Persons, Places, and Things." Names 30.3 (1982): 171–91.
Pyles, Thomas. "Bible Belt Onomastics or Some Curiosities of Anti-Pedobaptist Nomenclature." Names 7.2 (1959): 84–100.
Rennick, Robert M. "The Alleged 'Hogg Sisters/ or Simple Ground Rules for Collectors of 'Odd' Names." Names 30.3 (1982): 193–97.
Rennick, Robert M. "Obscene Names and Naming in Folk Tradition." Names 16.3 (1968): 207–29.
Rosenberg, Bruce A. "The Gremlin: Transforming the Past's Failures." Names 23.3 (1975): 159–66.