Research Article
Looking Back to Beaver and the Head: Male College Nicknames in the 1950s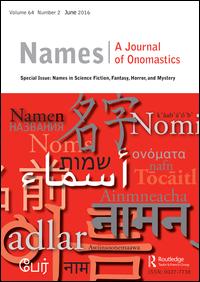 Published 1994-06-01
Copyright (c) 1994 Maney
This work is licensed under a Creative Commons Attribution 4.0 International License.
Abstract
Abstract
Studies of nicknames have neglected social fraternities, and most have been done by outsiders unable to assess the feelings of those who bear nicknames. I questioned members of a social fraternity to which I belonged in the late 1950s to find out how men felt about their nicknames then and now. Nicknames were found to be either endearing or critical, functioning as social controls.
References
Foster, George M. "Speech Forms and Perception of Social Distance in a Spanish-Speaking Mexican Village." Southwestern Journal of Anthropology 20 (1964): 107–22.
Goffman, Erving. Asylums. Chicago: Aldine, 1962.
Holland, Theodore, Jr. "The Many Faces of Nicknames." Names 38.4 (1990): 255–72.
Jackson, Bruce. "Prison Nicknames." Western Folklore 26 (1967): 48–54.
Lawson, Edwin D. "Nicknames: An Annotated Bibliography." Names 38.4 (1990): 323–63.
Leslie, Paul L., and James K. Skipper, Jr. "Toward a Theory of Nicknames: A Case for Socio-Onomastics." Names 38.4 (1990): 273–82.
Massolo, Maria Laura. "Teenage Granny: Portrayals of Women in Falkland Islands Nicknames." Names 38.4 (1990): 283–94.
Morgan, Jane, Christopher O'Neill, and Rom Harré. Nicknames: Their Origins and Social Consequences. London: Routledge & Kegan Paul, 1979.
Wilson, Brenda S., and James K. Skipper, Jr. "Nicknames and Women Professional Baseball Players." Names 38.4 (1990): 305–22.