Research Article
North American Women's Surname Choice Based on Ethnicity and Self-Identification as Feminists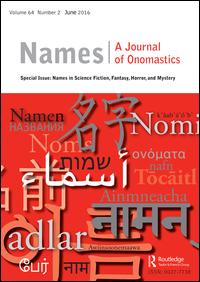 Published 2011-06-01
Keywords
GIVEN NAME

,

NARCISSISTIC DEPRIVATION

,

PSYCHOANALYSIS

,

DISPLACEMENT

,

NAME-FORMATION
Copyright (c) 2011 Maney Publishing
This work is licensed under a Creative Commons Attribution 4.0 International License.
Abstract
Abstract
Using empirical data gathered through surveys, this paper analyzes how surname choices of women residing in the United States — whether to acquire her spouse's surname or retain her birth surname — differ based on their ethnicity, age, and feminist self-identification. From a sample of 260 Black and White females, ages 16–70+, data were categorized for participants' responses to eight questions. Crosstabs were calculated to explore correlative patterns among participants for marital status, race/ethnicity, age, surname decision upon marriage, perception of feminists, and feminist orientation. The research reveals that women's self-identification as feminists are not direct predictors of their surname choices. Fully 81 percent of women surveyed, regardless of their ethnicity and age, reported that they did change or will change their surname upon marriage. Of the 19 percent of women who responded that they would retain their birth surname when married, only 14 percent identified themselves as feminists. This study leads to further questions about trends in naming choices and perceptions of feminism and feminist actions particularly among women aged 16–39.
References
Atkinson, Donna. L. 1987. "Names and Titles: Maiden Name Retention and the Use of Ms." Journal of the Atlantic Provinces Linguistic Association 9: 56–83.
Boxer, Diana and Elena Gritsenko. 2005. "Women and Surnames Across Cultures: Reconstituting Identity in Marriage." Women and Language 28.2: 1–11.
Brightman, Joan. 1994. "Why Hillary Chooses Rodham Clinton." American Demographics 16: 3.
Etaugh, Claire E., Judith S. Bridges, Myra Cummings-Hill, and Joseph Cohen. 1999. "'Names Can Never Hurt Me?' The Effects of Surname Use on Perceptions of Married Women." Psychology of Women Quarterly 23: 819–823.
Fowler, Rebekah and Ann Fuehrer. 1997. "Women's Marital names: An Interpretive Study of Name Retainers' Concepts of Marriage." Feminism Psychology 7: 315–320.
Hoffnung, Michele. 2006. "What's In a Name? Marital Name Choice Revisited." Sex Roles 55: 817–825.
Johnson, David. R. and Laurie K. Scheuble. 1995. "Women's Marital Naming in Two Generations: A National Study." Journal of Marriage and the Family 57: 724–732.
Johnson, David. R. and Laurie K. Scheuble. 2002. "What Should We Call Our Kids? Choosing Children's Surnames When Parents' Last Names Differ." The Social Science Journal 39: 419–429.
Lillian, Donna L. 2007. "Ms as a Courtesy Title: Variation Through Time and Space." LACUS Forum 33: 211–218.
Lillian, Donna L. 2008. "Ethnicity and Women's Courtesy Titles: A Preliminary Report." Names 56: 230–237.
Lillian, Donna L. 2009. "Social and Regional Variation in Women's Marital Surname Choices." LACUS Forum 34: 147–156.
Mills, Sara. 2003. "Caught Between Sexism, Anti-sexism, and 'Political Correctness': Feminist Women's Negotiations of Naming Practices." Discourse & Society 14: 87–110.
Murray, Thomas. E. 1997. "Attitudes Toward Married Women's Surnames: Evidence from the American Midwest." Names 45: 163–183.
Research Randomizer [accessed 23 October 2008]. Available at: <http://randomizer.org/>
Scheuble, Laurie K. and David R. Johnson. 1993. "Marital Name Change: Plans and Attitudes of College Students." Journal of Marriage and the Family 55: 747–754.
Scheuble, Laurie K. and David R. Johnson. 2005. "Married Women's Situational Use of Last Names: An Empirical Study." Sex Roles 53: 143–151.
Stafford, Laura and Susan L. Kline. 1996a. "Married Women's Name Choices and Sense of Self." Communication Reports 9.1: 85–92.
Stafford, Laura and Susan L. Kline. 1996b. "Women's Surnames and Titles: Men's and Women's Views." Communication Research Reports 13.2: 214–224.
Twenge, Jean M. 1997. "'Mrs His Name' Women's Preferences for Married Names." Psychology of Women Quarterly 21: 417–429.