Research Article
Hierarchical Naming in Milton's Paradise Lost and Twain's Diaries of Adam and Eve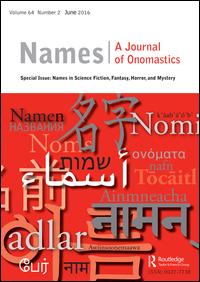 Published 2012-06-01
Keywords
classification

,

toponyms

,

typology
Copyright (c) 2012 American Name Society 2012
This work is licensed under a Creative Commons Attribution 4.0 International License.
Abstract
Abstract
Mark Twain — author, wit, philosopher, and self-named man — used names and naming throughout his works, not simply to add color, interest, or even characterization, but to shed light on the power struggles between people at different levels of nineteenth-century American society. Twain's 'Extracts from Adam's Diary' and 'Eve's Diary,' which were directly influenced by one of his greatest literary influences — John Milton, are especially saturated with active naming. In Paradise Lost, Milton describes a hierarchically struc- tured naming system that separates angels from fallen angels, God from man, and man from woman. In Twain's versions of the creation story, he inverts Milton's naming structure, instead using naming to demonstrate his anti-imperialist ideals through the dominant naming of Eve.
References
Algeo John. 1985. 'Is a Theory of Names Possible?' Names, 33, 136–144.
——. 1973. On Defining the Proper Name. Gainesville, Florida: University of Florida Press.
Baetzhold HowardG, Joseph BMcCullough. 1996. The Bible According to Mark Twain: Irreverent Writings on Eden, Heaven, and the Flood by America's Master Satirist. New York: Touchstone.
Blakemore Steven. 1986. 'Language and Logos in Paradise Lost.' Southern Humanities Review 20(4): 325–340.
Bosmajian HaigA. 1983. The Language of Oppression. Lanham, MD: University Press of America.
Campbell MichaelD. 2008. Behind the Name: the Etymology and History of First Names [accessed November 9 2011]. Available at: <http://www.behindthename.com/adam>.
Markey TL. 1982. 'Crisis and Cognition in Onomastics.' Names 30: 129–142.
Milton John. 1973. Christian Doctrine. Ed. Maurice Kelley. New Haven, Connecticut: Yale University.
——. 2004. Paradise Lost. Ed. Gordon Teskey. New York: Norton.
Twain Mark. 1910. Mark Twain's Speeches. New York: Harper Press.
——. 1967. Mark Twain's Letters to His Publishers: 1867–1894. Ed. Hamlin Hill. Berkeley: University of California Press.
——. 2010a. Eve's Diary. Tales, Sketched, Speeches, & Essays 1891–1910. Ed. Louis J. Budd. New York: Library of America, 695–709.
——. 2010b. 'Extracts From Adam's Diary.' Tales, Sketched, Speeches, & Essays 1891–1910. Ed. Louis J. Budd. New York: Library of America, 98–108.