Article
A Note on the 2017 Landmark US Ruling on the Constitutionality of Prohibiting the Trademarking of Potentially Disparaging Names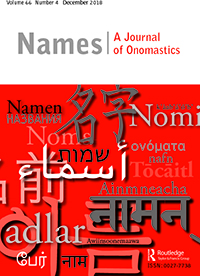 Published 2018-10-02
Copyright (c) 2018 American Name Society
This work is licensed under a Creative Commons Attribution 4.0 International License.
Abstract
The Lanham Act was enacted by the US Congress in 1946 with the overall purpose of regularizing the nation's registration and use of trademarks. Despite undergoing a number of amendments since its enactment, for the past 70 years, the Act has continued to provide key federal protections against not only the unlawful or deceptive use of trademarks. It also strictly forbad the registration of marks that reasonably could be considered immoral, scandalous, contemptuous, or disparaging. Though hailed by some as an important protection against hateful speech in the public marketplace, others have questioned whether the statute violates the constitutional right to Freedom of Speech. This year, the US Supreme Court issued a ruling that put an official end to this legal controversy. This article provides a detailed description of the case that led to this landmark decision and discusses some of the potential implications for trademarking potentially disparaging brand names.
References
Battersby, Gregory, and Charles W. Grimes. 2017. Trademark and Copyright Disputes: Litigation Forms and Analysis. New York: Wolters Kluwer.
Bonadio, Enrico. 2015. "Morality and Public Policy: Some Reflections on the Ban on Registration of Controversial Trademarks." Marquette Intellectual Property Law 19 (1): 43–61.
Brady, Erik. 2013, May 9. "Daniel Snyder Say Redskins Will Never Change Name." USA Today. Accessed June 26, 2017. https://www.usatoday.com/story/sports/nfl/redskins/2013/05/09/washington-redskins-daniel-snyder/2148127/?sf12629993=1.
Chow, Kat. 2017, January 19. "The Slants: Fighting for the Right to Rock a Racial Slur." National Public Radio. Accessed June 22, 2017. http://www.npr.org/sections/codeswitch/2017/01/19/510467679/the-slants-fighting-for-the-right-to-rock-a-racial-slur
Forbes Magazine. 2016. Sports Money: 2016 NFL Valuations. Accessed June 24, 2017. https://www.forbes.com/nfl-valuations/list/
Freed, Benjamin. 2017, June 19. "Supreme Court's Ruling in Trademark Case is Sure to Help the Redskins." The Washingtonian. Accessed June 21, 2017. https://www.washingtonian.com/2017/06/19/supreme-courts-ruling-trademark-case-sure-help-redskins/
Guggenheim, Jack. 1999. "Renaming the Redskins (and the Florida State Seminoles?)." Florida State University Law Review 27 (1): 287–320.
Harris, Jamie. 2011, March17. "Rock Band to Trademark Office." Northwest Asian Weekly. Accessed June 24, 2017. http://nwasianweekly.com/2011/03/rock-band-to-trademark-office-%E2%80%98our-name-is-not-disparaging-to-asians%E2%80%99/
Heitner, Darren. 2017, June 19. "Supreme Court Ruling is Great for Washington Reskins Trademark Battle." Accessed June 24, 2017. https://www.forbes.com/sites/darrenheitner/2017/06/19/supreme-court-ruling-is-great-for-washington-redskins-in-trademark-battle/#564434ee3910
Hinrichsen, Malte. 2012. Racist Trademarks: Slavery, Orient, Colonialism and Commodity Culture. Berlin: LIT Verlag.
Hopkins, Julie, and Thomas Joraanstad. 2015. "Challenge-Flag Thrown: The Trademark Trial and Appeal Board's Cancellation of the Redskins' Trademarks and pro-Football's Chances on Appeal." Journal of Business and Technology Law 10 (2): 267–296.
Hughey, Rachel. 2004. "The Impact of pro-Football, Inc. V. Harjo on Trademark Protection of Other Marks." Fordham Intellectual Property, Media, and Entertainment Law Journal 14 2: 327–360.
Jeong, Sarah. 2017, January 17. "Should We Able to Reclaim a Racist Insult – As a Registered Trademark?" The New York times. Accessed June 22, 2017. https://www.nytimes.com/2017/01/17/magazine/should-we-be-able-to-reclaim-a-racist-insult-as-a-registered-trademark.html
Kiser, Jessica. 2011. "How Dykes on Bikes Got It Right." University of San Francisco Law Review 46 (1): 1–36.
Lindsay, Peter. 2008. "Representing Redskins: The Ethics of Native American Team Names." Journal of the Philosophy of Sport 35: 208–224.10.1080/00948705.2008.9714739
National Collegiate Athletic Association (NCAA). 2005. "NCAA Executive Committee Issues Guidelines for Use of Native American Mascots at Championship Events." (Press release). Accessed June 23, 2017. http://fs.ncaa.org/Docs/PressArchive/2005/Announcements/NCAA%2BExecutive%2BCommittee%2BIssues%2BGuidelines%2Bfor%2BUse%2Bof%2BNative%2BAmerican%2BMascots%2Bat%2BChampionship%2BEvents.html
National Congress of American Indians (NCAI). 2015, July 8. "Court Upholds Trademark Cancellation." Accessed June 20, 2017. http://www.ncai.org/news/articles/2015/07/08/court-upholds-trademark-cancellation
Nuessel, Frank. 1994. "Objectionable Sport Team Designators." Names 42 (2): 101–119.10.1179/nam.1994.42.2.101
Phillips, Michael. 2017, June 19. "Supreme Court Rules for Rock Band the Slants, Which Bodes Well for Redskins." Richmond times-Dispatch. Accessed June 23, 2017. http://www.richmond.com/redskins-xtra/supreme-court-rules-for-rock-band-the-slants-which-bodes/article_49bd9122-498e-507a-a2 cc-d508256f5e3b.html
Rasul, Hammad. 2015. "Fourth and Long: The time is Now for the 'Washington Redskins' to Punt the Name." University of Maryland Law Journal of Race, Religion, Gender, and Class. 14, no. 2: 338–355.
Rowland, Lee. 2017, June 19. "Victory! the Slants Are Officially Rock Stars of the First Amendment." Accessed on 19 June 2017. Accessed June 23, 2017. https://www.aclu.org/blog/speak-freely/victory-slants-are-officially-rock-stars-first-amendment
Smith, Thomas. 2011. Showdown: JFK and the Integration of the Washington Redskins. Boston, MA: Beacon Press.
Stern, Nat. 1999. "In Defense of the Imprecise Definition of Commercial Speech." Maryland Law Review 58 (1): 55–149.
Thomas, John. 2014. "Clear and Convincing Disparagement." Journal of Intellectual Property Law 22 (2): 435–462.
United States District Court for the Eastern District of Virginia: Alexandria Division. 2015. "Case No.: 1:14-Cv-01043-GBL-IDD." Pro-Football, Inc., v. Amanda Blackhorse, et al. Accessed June 26, 2017. http://coop.vaed.uscourts.gov/114cv1043/Document_161.pdf
United States Patent and Trademark Office (USPTO). 2013, November 25. "U.S. Trademark Law: Federal Statutes." Accessed June 20, 2017https://www.uspto.gov/sites/default/files/trademarks/law/Trademark_Statutes.pdf
Ver Steeg, Russ. 2016. "Blackhawk down or Blackhorse down?" Oklahoma Law Review 68 (4): 677–771.