Research Article
The Nicknames of American Greek-Letter Organizations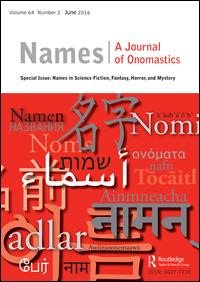 Published 1992-09-01
Copyright (c) 1992 Maney
This work is licensed under a Creative Commons Attribution 4.0 International License.
Abstract
Abstract
Most sororities and fraternities in the United States have at least one nickname, the formation of which always follows the regular processes of English neology for shortened forms, and, additionally, always adheres to the basic parameters of non-duplication (of other similar organizations' nicknames), brevity, and uniqueness. Besides serving as a ready means of identification, these nicknames serve important psycho-social functions: fraternity and sorority members use them as one way of achieving social solidarity and a group identity, both within and across organizational boundaries; non-members use them as a convenenient means of subcultural derision.
References
Allen, Harold B. "Nicknaming in Egyptian Arabic." Names 4 (1956): 75–82.
Barrett, Richard A. "Village Modernization and Changing Nicknaming Practices in Northern Spain." Journal of Anthropological Research 34 (1978): 92–108.
Bernard, H. Russell. "Parasouki: Institutionalized Nicknaming in Rural Greece." Ethnologia Europaea 2 (1968–69): 92–108.
Brandes, Stanley H. "Social Structure and Interpersonal Relations in Navanogal, Spain." American Anthropologist 15 (1973): 750–65.
Cohen, Eugene N. "Nicknames, Social Boundaries, and Community in an Italian Village." International Journal of Contemporary Sociology 14 (1977): 102–13.
Dorian, Nancy C. "A Substitute Name System in the Scottish Highlands." American Anthropologist 72 (1970): 303–19.
Foster, George M. "Speech Forms and Perception of Social Distance in a Spanish-Speaking Mexican Village." Southwestern Journal of Anthropology 20 (1964): 107–22.
Holland, Theodore J., Jr. "The Many Faces of Nicknames." Names 38 (1990): 255–72.
Iszaevich, Abraham. "Household Renom: The Traditional Naming System in Catalonia." Ethnology 19 (1980): 315–25.
Lawson, Edwin D. "Nicknames: An Annotated Bibliography." Names. 38 (1990): 323–63.
Leslie, Paul L., and James K. Skipper, Jr. "Toward a Theory of Nicknames: A Case for Socio-Onomastics." Names 38 (1990): 273–82.
McDowell, John H. "Toward a Semiotics of Nicknaming: The Kamsá Example." Journal of American Folklore 94 (1981): 1–18.
McGeachy, John A. III. "Student Nicknames for College Faculty." Western Folklore 37 (1978): 281–96.
Milroy, Lesley. Language and Social Networks, 2nd ed. Oxford: Basil Blackwell, 1983.
Mook, Maurice A. "Nicknames Among the Amish." Names 15 (1967): 111–18.
Morgan, Jane, Christopher O'Neill, and Rom Harré. Nicknames: Their Origins and Social Consequences. London: Routledge and Kegan Paul, 1979.
Murray, Thomas E. "Social Structure and Phonological Variation on a Midwestern College Campus." American Speech 67.2 (1992): 163–74.
Pitt-Rivers, Julian A. The People of the Sierra. Chicago: Phoenix, 1961.
Popenoe, David. Sociology. 2nd ed. Englewood Cliffs: Prentice-Hall, 1974.
Price, Richard, and Sally Price. "Saramaka Onomastics: An Afro-American Naming System." Ethnology 11 (1972): 341–67.
Robson, John, ed. Baird's Manual of American College Fraternities. 19th ed. Menaska, WI: Baird's Manual Foundation,1977.
Skipper, James K., Jr. "Nicknames, Coal Miners and Group Solidarity." Names 34 (1986): 134–45.
Skipper, James. K, Jr., and Paul L. Leslie. "Women, Nicknames, and Blues Singers." Names 36 (1988): 193–202.
Wilson, Brenda K., and James K. Skipper, Jr. "Nicknames and Women Professional Baseball Players." Names 38 (1990): 305–22.
Yassin, M. Aziz F. "Personal Names of Address in Kuwaiti Arabic." Anthropological Linguistics 20 (1978): 53–63.