Research Article
The Other Nicknames of American Greek-Letter Organizations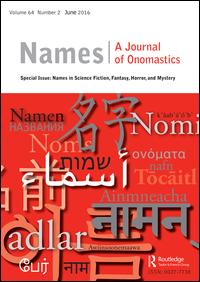 Published 1998-06-01
Copyright (c) 1998 Maney
This work is licensed under a Creative Commons Attribution 4.0 International License.
Abstract
Abstract
Greek sororities and fraternities in the United States have not one nickname, but two—the second being a sexually-embellished version of the first. These latter, "dirty", nicknames have been created within a narrowlydefined set of sociocultural and linguistic rules, and, beyond revealing the usual adolescent preoccupation with sex, serve at least one important psycho-social function in the Greek socialization process, to bind !ogether members of a particular secondary group.
References
Barrett, Richard A. 1978. "Village Modernization and Changing Nicknaming Practices in Northern Spain." Journal of Anthropological Research 34: 92–108.
Bernard, H. Russell. 1968–69. "Parasouki: Institutionalized Nicknaming in Rural Greece." Ethnologia Europaea 2: 92–108.
Dorian, Nancy C. 1990. "A Substitute Name System in the Scottish Highlands." American Anthropologist 72: 303–19.
Holland, Theodore J., Jr. 1990. "The Many Faces of Nicknames." Names 38: 255–72.
Jay, Timothy. 1992. Cursing in America. Philadelphia and Amsterdam: John Benjamins.
Lerman, P. 1967. "Argot, Symbolic Deviance and Subcultural Delinquency." American Sociological Review 32: 209–24.
Leslie, Paul L., and James K. Skipper, Jr. 1990. "Toward a Theory of Nicknames: A Case for Socio-Onomastics." Names 38: 273–82.
Murray, Thomas E. 1992a. "The Nicknames of American Greek-Letter Organizations." Names 40: 173–89.
Murray, Thomas E. 1992b, "Social Structure and Phonological Variation on a Midwestern College Campus." American Speech 67: 163–74.
Popenoe, David. 1974. Sociology. 2nd ed. Englewood Cliffs: Prentice- Hall.
Skipper, James K., Jr. 1986. "Nicknames, Coal Miners and Group Solidarity." Names 34: 134–45.