Research Article
Island Placenaming and Insular Toponymies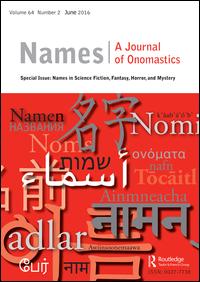 Published 2015-09-01
Copyright (c) 2015 Maney Publishing
This work is licensed under a Creative Commons Attribution 4.0 International License.
Abstract
Abstract
Islands as distinct research sites have been given little specific attention by toponymists. The physical segregation, distinctness, and isolation of islands from continental environments may provide linguists and onomasticians with significant micro case studies for examining the role of toponyms as proper names. This article outlines the possibility of how the cultural and ecological nature of the toponymy of (small) island situations contributes to a place's onomasticon. It is claimed the principal difference which distinguishes island people from non-island people is island people's self-perceived difference. It is speculated this difference and awareness can be observed and demonstrated in island toponymies, both through distinction based on belonging to an island-specific language group and through knowledge and use of locally peculiar eponymous toponyms. The argument concludes by suggesting that a description of a place and culture based in the self-perceived awareness of the holders of island placenaming history and knowledge — an island's toponymic ethnography — is an apt descriptor for future work into islotoponomastics.
References
Basso, K. H. 1996. Wisdom Sits in Places: Landscape and Language among the Western Apache. Albuquerque: University of New Mexico Press.
Blair, S. L. 2006. "Shooting a net at 'Gilly's Snag': the movement of belonging among commercial fishermen at the Gippsland Lakes." PhD thesis, University of Melbourne.
Coates, R. A. 1991. "The Place-Names of Hayling Island, Hampshire." Ms.
Coates, R. A. 2009. "A Glimpse Through a Dirty Window into an Unlit House: Names of Some North-West European Islands." Proceedings of the 23rd International Congress of Onomastic Sciences. Ed. W. Ahrens, S. Embleton, and A. Lapierre. Toronto: York University, 228–42.
Cohen, A. P. 1987. Whalsay: Symbol, Segment andB in a Shetland Island Community. Manchester: Manchester University Press.
Forman, S. 1967. "Cognition and the Catch: The Location of Fishing Spots in a Brazilian Coastal Village." Ethnology 66(4): 417–26.
Gaffin, D. 1993. "Landscape, Personhood, and Culture: Names of Places and People in the Faeroe Islands." Ethnos 58(1): 53–72.
Gaffin, D. 1996. In Place: Spatial and Social Order in a Faeroe Islands Community. Prospect Heights: Waveland Press.
Gifford E.W. 1923. Tongan Place Names. Bayard Dominick Expedition Publication No. 7. Honolulu: Bernice P. Bishop Museum.
Gillis, J. R. 2004. Islands of the Mind: How the Human Imagination Created the Atlantic World. New York: Palgrave Macmillan.
Hardy, W. 1974. The Saltwater Angler. 5th edn. Sydney: Murray.
Henshaw, A. 2006. "Pausing Along the Journey: Learning Landscapes, Environmental Change, and Toponymy Amongst the Sikusilarmiut." Arctic Anthropology 43(1): 52–66.
Hovda, P. 1961. Norske Fiskeméd: Landsoversyn og to gamle médbøker. Oslo: Universitetsforlaget.
Hudson, Brian J. and Higman, B. W. 2009. Jamaican Place Names. Jamaica: The University of West Indies Press.
Jackson, R. E. 2004. "Offshore Islands in Australia and New Zealand: Questions of Tourism and Conservation Management." Islands of the World VIII: Changing Islands — Changing Worlds. Proceedings Vol. 1, November, Kinmen Island, Taiwan, pp. 353–77.
Lawrence, David H. 1986. The Man Who Loved Islands. Lewisburg, PA: Press of Appletree Alley, Bucknell University.
McCall, G. 1994. "Nissology: A Proposal for Consideration." Journal of the Pacific Society 17(2–3): 1–14.
Myers, F. R. 1986. Pintupi Country, Pintupi Self: Sentiment, Place, and Politics Among Western Desert Aborigines. Berkeley: University of California Press.
Nash, J. 2013. Insular Toponymies: Place-naming on Norfolk Island, South Pacific and Dudley Peninsula, Kangaroo Island. Amsterdam/Philadelphia: John Benjamins.
Péron, F. 2004. "The Contemporary Lure of the Island." Tjidschrift voor Economische en Sociale Geografie 95(3): 326–39.
Radding, L. and Western, J. 2010. "What's in a Name? Linguistics, Geography, and Toponyms." The Geographical Review 100(3): 394–412.
Rjabchikov, S. V. 1996. "Easter Island Place-Names: Myths and Reality." Beiträge zur Namenforschung. Neue Folge 31: 255–59.
Ronström, O. 2009. "Island words, island worlds: the origins and meanings of words for 'Islands' in North-West Europe." Island Studies Journal 4(2): 163–82.
Schreier, D. 2009. "Language in Isolation, and its Implications for Variation and Change." Language and Linguistics Compass 3: 682–99.
Wylie, J. and Margolin, D. 1981. The Ring of Dancers: Images of Faroese Culture. Philadelphia: University of Pennsylvania Press.