Article
Unforgettable: The Lives and Passing of Three US American Onomastic Icons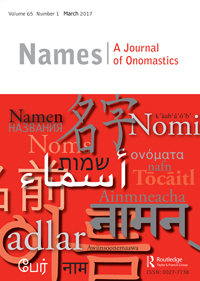 Published 2017-01-02
Keywords
Copyright (c) 2016 American Name Society
This work is licensed under a Creative Commons Attribution 4.0 International License.
Abstract
Through its sheer volume, the US baby-boom generation brought with it many profound, changes in the US American society. However, the dynamism of this generation cannot be explained solely by its numerical magnitude. The individuals who emerged as the cultural leaders of this generation also demanded widespread systemic changes to the world they had inherited. Rather than meekly conforming to the pre-established norms of a power elite, they demanded revolutionary changes to the pre-existing hierarchies that had systematically disenfranchised women and people of color both at home and abroad. One of the primary tools of this counter-culture was names and naming. This article examines the onomastic legacies of three recently deceased leaders of this protest generation. As will be shown here, their struggle for personal, professional, individual, and social independence continues to serve as an unforgettable role model for today's generation and beyond.
References
Ali, Muhammad, and Hana Ali. 2004. The Soul of a Butterfly: Reflections on Life's Journey. New York, NY: Simon & Schuster.
Aske, Joyce, William Hale, Rutger Engels, Quinten Raaijmakers, and Wim Meeus. 2004. "Personality, Perceived Parental Rejection and Problem Behaviors in Adolescence." Social Psychology and Psychiatric Epidemiology 39 (12): 980–988.
Baumgold, Julie. 2016, April 21. "Why Prince Became a Symbol (Literally.): Revisiting His 1995 Cover Story in a Special Edition of Esquire." Esquire Magazine. <http://www.esquire.com/entertainment/music/a44218/prince-1995-esquire-gentleman/> (Accessed October 10, 2016).
BBC Sports. 2016, June 4. "Muhammad Ali- in His Own Words." <http://www.bbc.com/sport/boxing/16146367> (Accessed October 24, 2016).
Cole, Natalie. 2000. Angel on My Shoulder: An Autobiography. New York, NY: Time Warner.
Cole, Natalie. 2010. Love Brought Me Back: A Journey of Loss and Gain. New York, NY: Simon and Shuster.
Forde, Eammon. 2015, August 10. "Record Breaker: A Brief History of Prince's Contractual Controversies." The Guardian. <https://www.theguardian.com/music/2015/aug/10/history-prince-contractual-controversy-warner-paisley-park> (Accessed October 10, 2016).
Johnson, Gabe. 2016. "Muhammad Ali: What's My Name?" New York Times. Video Documentary. <http://www.nytimes.com/2016/06/04/sports/muhammad-ali-dies.html?_r=0> (Accessed September 26, 2016).
McAdams, Charles, John Dewell, and Angela Holman. 2011. "Children and Chronic Sorrow: Reconceptualizing the Emotional Impact of Parental Rejection and Its Treatment." Journal of Human Counseling 50 (1): 27–41.10.1002/(ISSN)2161-1939
Morris, Wesley. 2016, June 4. "Muhammad Ali Evolved from a Blockbuster Fighter to a Country's Conscience." The New York Times. <http://www.nytimes.com/2016/06/05/sports/muhammad-ali-evolved-from-a-blockbuster-fighter-to-a-countrys-conscience.html?module=Promotron&region=Body&action=click&pgtype=article> (Accessed October 10, 2016).
NAACP. 2016, April 21. "NAACP Statement on the Death of Musical Artist, Activist." <http://www.naacp.org/latest/naacp-statement-death-musical-artist-activist-prince/> (Accessed October 15, 2016).
NAACP Legal Defense Fund. 2016. "A Tribute to the Life of Muhammad Ali: World Champion Boxer, Outspoken and Courage Advocate, Global Leader and Former LDF Client." Legal Defense Fund. <http://www.naacpldf.org/press-release/tribute-life-muhammad-ali-world-champion-boxer-outspoken-and-courageous-advocate-global> (Accessed October 24, 2016).
Peter, Josh. 2016, July 12. "Why Muhammad Ali Never Legally Changed Name from Cassius Clay." USA Today Sports. http://www.usatoday.com/story/sports/boxing/2016/07/11/muhammad-ali-name-change-cassius-clay/86956544/> (Accessed October 10, 2016).
Peterson, Hayley. 2016, July 13. "Starbucks Baristas Are Being Encouraged to Shout 'Black Lives Matter' in Stores." Business Insider. <http://www.businessinsider.de/starbucks-customers-change-their-names-to-black-lives-matter-2016-7?r=US&IR=T> (Accessed October 24, 2016).
Smithsonian Channel. 2016. "Muhammad Ali's Brother on Racism and the Medal Myth." <http://www.smithsonianchannel.com/videos/muhammad-alis-brother-on-racism-and-the-medal-myth/49240?auto=true> (Accessed October 20, 2016).
Stattin, Hakan, and Ingrid Klackenberg-Larsson. 1991. "The Short- and Long-Term Implications for Parent-Child Relations of Parents' Prenatal Preferences for Their Child's Gender." Developmental Psychology 27 (1): 141–147.10.1037/0012-1649.27.1.141
Sykes, Selina. 2016, April 22. "Is This the Worst Year Ever for Celebrity Deaths? World Lost More than 80 Stars in 2016." The UK Sunday Express. <http://www.express.co.uk/news/world/663347/Prince-dead-2016-celebrity-deaths-worst-year-ever> (Accessed October 10, 2016).
The Courier Journal. 2016, June 14. "Editorial: Cassius Clay, Muhammad Ali and the CJ." <http://www.courier-journal.com/story/opinion/editorials/2016/06/12/editorial-cassius-clay-and-muhammad-ali/85639986/> (Accessed September 12, 2016).
The UK Sunday Express. 2016, January 8. "Natalie Cole 195-2015". <http://www.express.co.uk/news/obituaries/633041/Natalie-Cole-obituaries-singer> (Accessed October 24, 2016).